The tomb of the First Qin Emperor is a large mausoleum complex located in the Shaanxi province of China.
The mausoleum was constructed by Qin Shi Huang, the first emperor of China, and the founder of the Qin Dynasty. Qin Shi Huang was responsible for the unification of China and several diverse walls into the Great Wall of China, a national road system, the Lingqu Canal, and the enactment of several major economic and political reforms to standardise the Chinese states incorporated into his Empire.
During his life, Qin Shi Huang became obsessed with immortality and sought the elixir of life out of fear of his own death. Men were sent in search of the fabled Penglai mountain (an island in the eastern end of Bohai Sea where the immortals lived) to find the magician Anqi Sheng in the hope of finding the secret of everlasting life.
Qin Shi Huang died in 210 BC whilst touring Eastern China, with his death being reportedly attributed to alchemical elixir poisoning due to the ingestion of mercury pills (believing it to be an elixir of immortality).
In preparation, a large funerary complex was constructed underneath a large mound shaped like a truncated pyramid (reaching a height of 76 metres) that represents a microcosm of the Emperor's empire and palace, with the wider mausoleum being modelled on the Qin capital Xianyang, comprising of an inner and outer city.
Excavations around the complex discovered around 7,000 (estimates suggest up to 8,000) statues of terracotta warriors and horses, and about a hundred wooden battle chariots and numerous weapons which were placed to protect the emperor in his afterlife. Archaeologists have also discovered terracotta statues of officials, acrobats, strongmen, and musicians.
Non-invasive studies of the tomb mound to detect magnetic anomalies has revealed an underground palace and a tomb chamber, which measures around 80 metres in length, 50 metres in width and about 15 metres in height.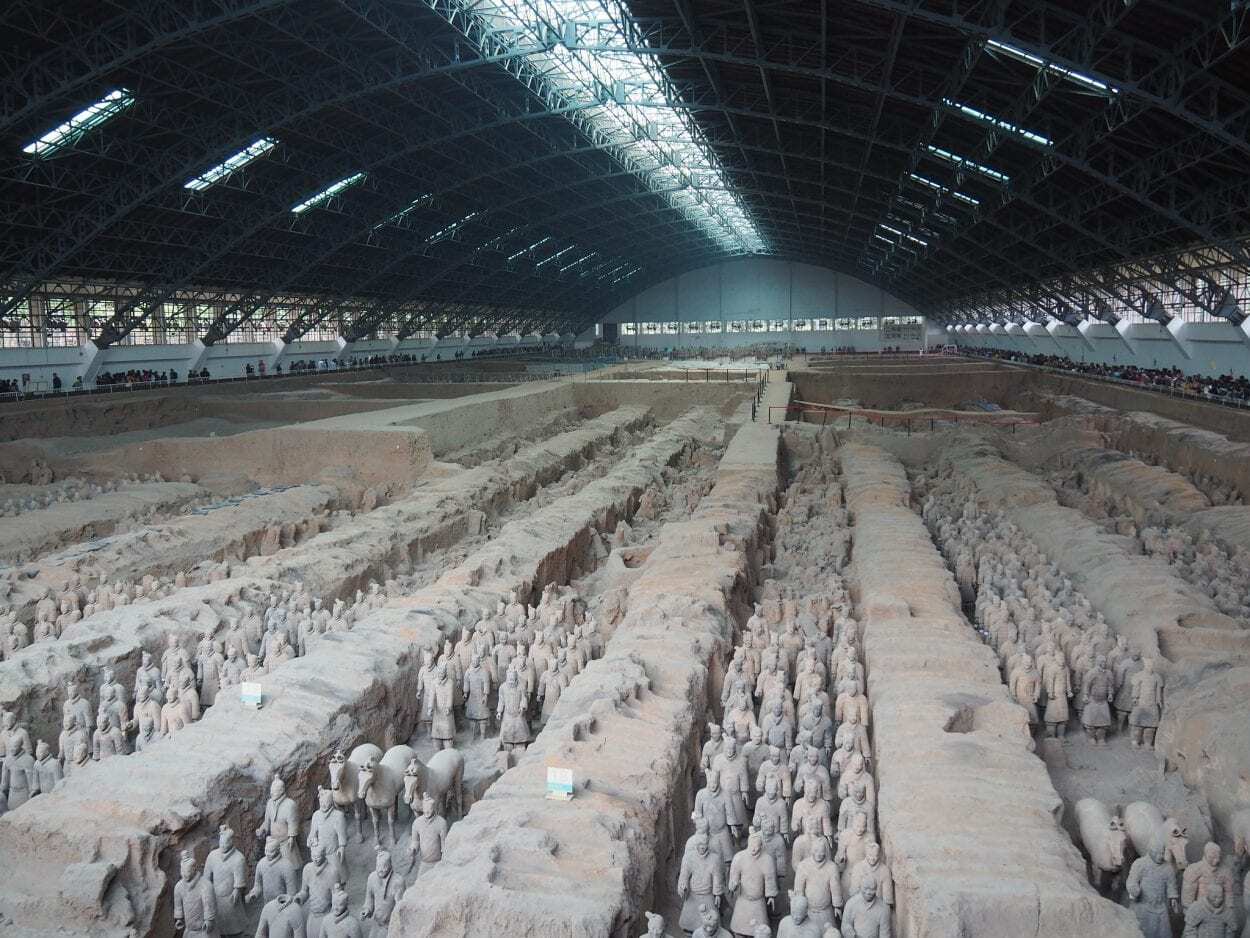 Soil samples of the mound have detected high levels of mercury, which supports the accounts by Chinese historian Sima Qian that liquid mercury was used in the tomb to simulate the waterways and the seas (although it's contested that the mercury could be a result of modern industrial pollution).
The tomb mound remains unexcavated, with local sources citing that the current methods of excavating a site of this scale would likely result in irreparable damage. The State Administration of Cultural Heritage (SACH) has instead followed a process of research and evaluations to develop a protection plan before any long-term excavations can take place in the future.
Header Image – The Terracotta Warriors – Image Credit : Hotel Kaesong – CC BY-SA 2.0