The Ellora Caves is a large rock-cut monastery temple complex located in the Aurangabad district of Maharashtra, India.
The complex has over 100 caves, features a multi-faith collection of Buddhist, Hindu and Jain sculptures and monuments that date from AD 600 to 1000. These consist of 12 Buddhist (caves 1–12), 17 Hindu (caves 13–29) and 5 Jain (caves 30–34) caves as well as monasteries dedicated to each religion.
The earliest caves may have been built during the dynasties of the Traikutakas (a dynasty of Indian kings who ruled between AD 388 and 456) and the Vakataka (a dynasty from the Indian subcontinent that originated from the Deccan between AD 250 – 270), the latter being known for sponsoring the Ajanta caves.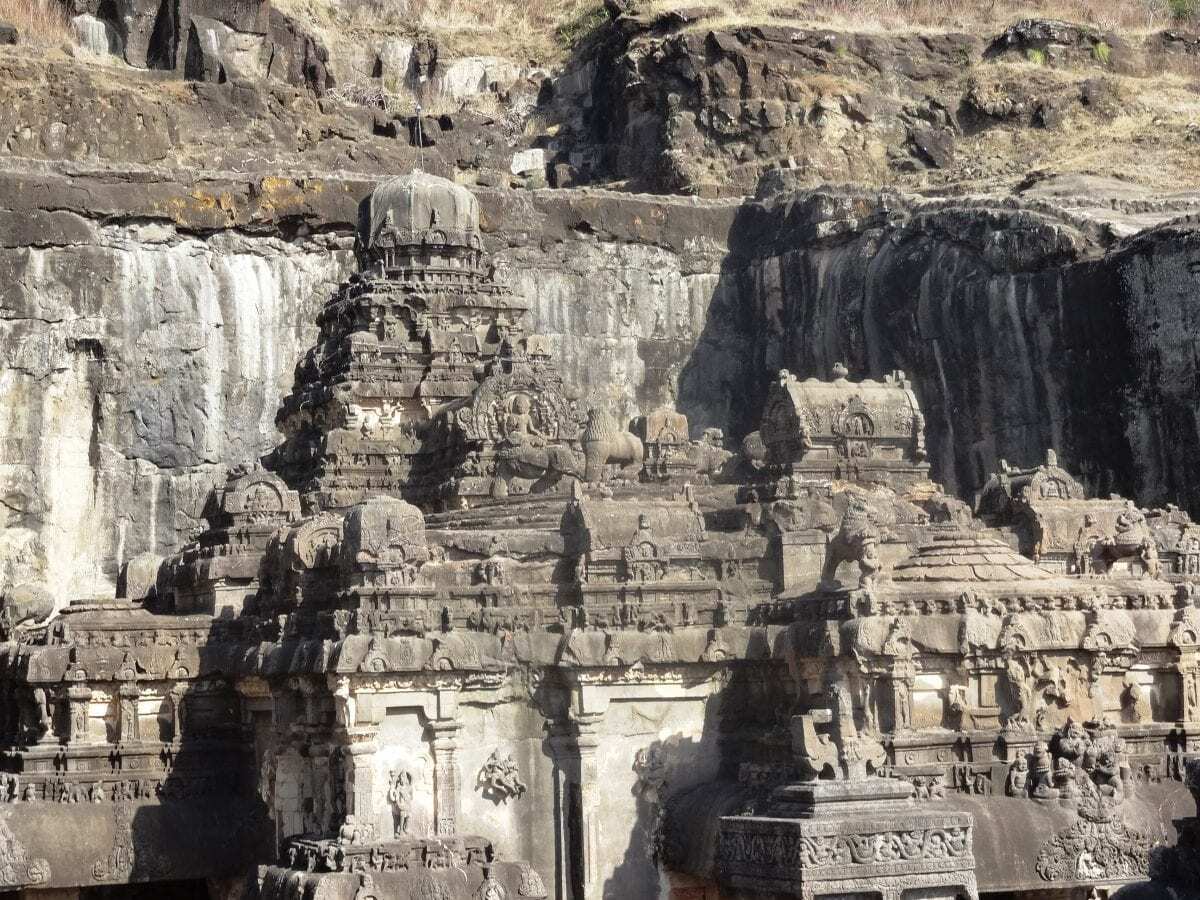 The Buddhist caves were built during the Chalukya dynasty (a Classical Indian royal dynasty that ruled large parts of southern and central India between AD 500-1100), the Hindu caves by the Rashtrakuta dynasty (a royal dynasty ruling large parts of the Indian subcontinent between AD 500-900) and the Jaina caves by the Yadava dynasty (a kingdom stretching from the Narmada river in the north to the Tungabhadra river in the south, in the western part of the Deccan region).
The complex served as a monastic site for worship and a rest stop for pilgrims, but also functioned as an important commercial centre due to its proximity to the South Asian trade routes.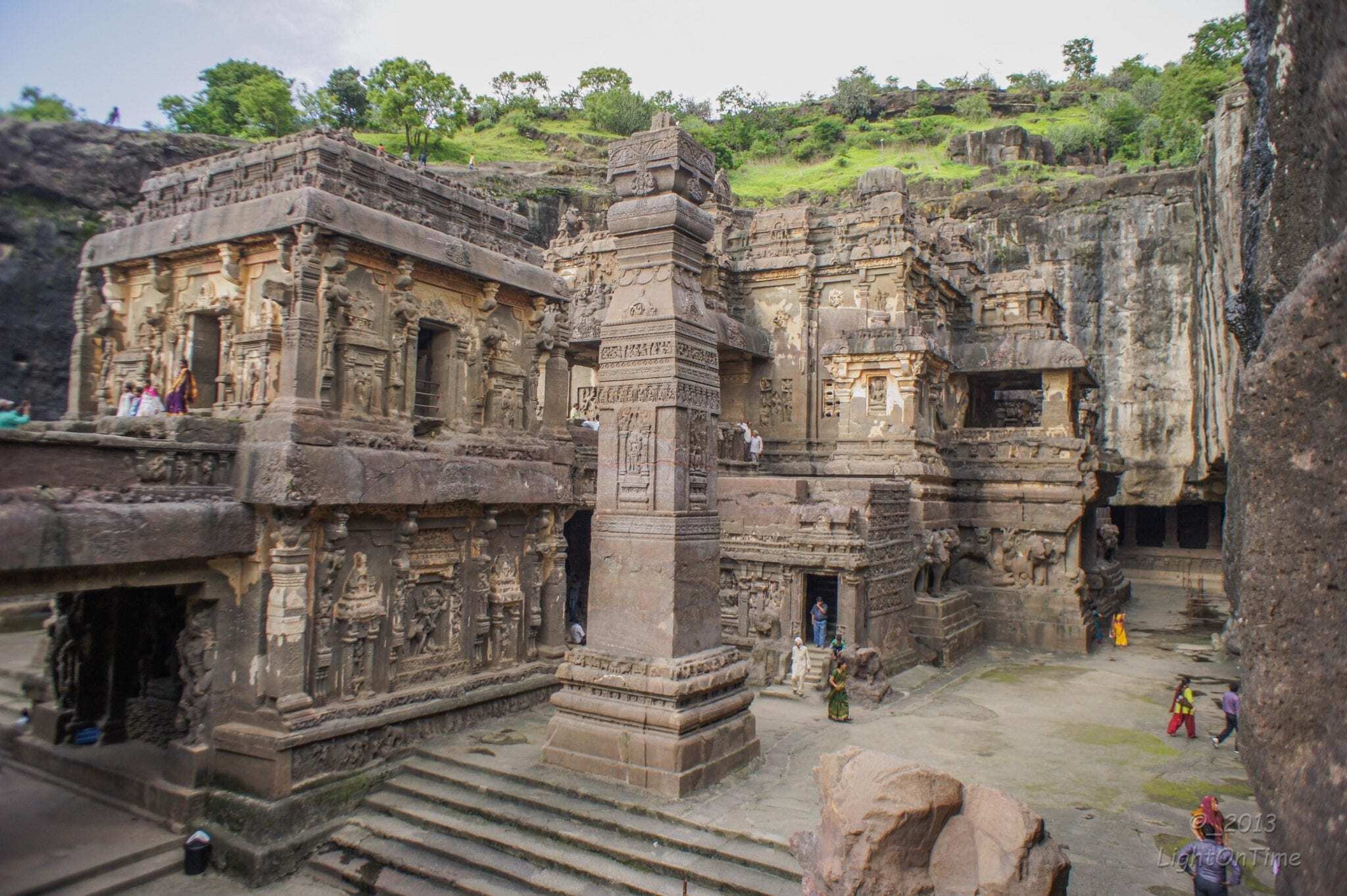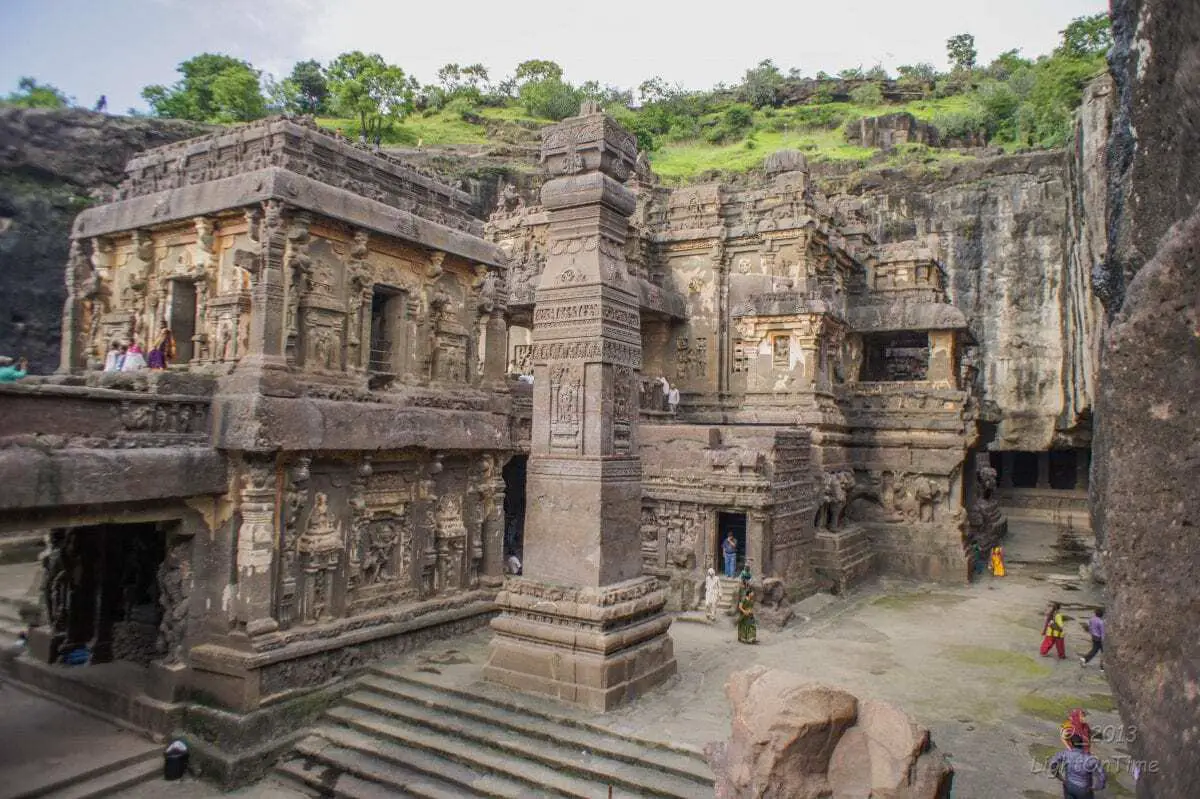 Ellora occupies a flat rocky region of the Western Ghats, also known as Sahyadri (Benevolent Mountains), where the geology of the landscape was shaped by volcanic activity creating a multi-layered basalt formation known as the Deccan Traps that formed during the Cretaceous period. The resulting vertical face made access to many layers of rock formations easier, enabling architects to pick basalt with finer grains for more detailed sculpting.
One of the most notable monuments at Ellora is The Kailāśa temple: Cave 16, carved entirely out of a single rock face that covers an area twice the size of the Parthenon in Athens.
The Kailāśa temple has been attributed to the Rashtrakuta King Krishna I (AD 756–773) and was inspired by Mount Kailāśa, modelled in design to Hindu temples with a gateway, an assembly hall, a garbha-grihya (sanctum sanctorum) wherein resides the linga-yoni and a main temple surrounded by many shrines and sculptures.
Header Image Credit : Y.Shishido