From 30th June until 25th July archaeologists from Cardiff University will be teaming up with local community development organization Action in Caerau and Ely (ACE), local residents and schools in a Cardiff suburb for a second exciting season of excavations to explore the city's prehistoric past and put local people at the heart of cutting-edge archaeological research.
Nestled within local housing estates of Caerau and Ely, Caerau hillfort is one of the largest and most impressive in south-east Wales and was once the residence of an important and powerful Iron Age community, who inhabited this part of Wales before the arrival of the Romans. Today, the magnificent ramparts are hidden beneath trees, but the old parish church, St. Mary's, and a small ringwork, almost certainly the site of a medieval castle, stand within the hillfort on the north-eastern side. As such Caerau hillfort is one of Cardiff's largest and most important heritage sites,although very few people are aware that it even exists.

This summer the Caerau And Ely Rediscovering Heritage Project (CAER Heritage project) will once again involve community members and pupils from local schools in a journey of archaeological discovery. Working with professionals from Cardiff University they will undertake a significant excavation at the site; digging down to find out about their rich heritage while learning new skills and building community confidence and cohesion.
This year's dig follows on from success of a major community excavation in July 2013 which made some remarkable discoveries, revealing that occupation at the site stretched from the Bronze Age through to the late Roman era and beyond. Key finds during the 2013 dig included 5 large Iron Age roundhouses, a roadway, extensive assemblages of Iron-age and Roman pottery and a decorated Iron Age glass bead. The archaeologists also recovered burnt seeds and well-preserved animal bones which tells us that the prehistoric occupants of Cardiff kept cattle, sheep, pigs and horses and grew oats, barley and wheat in their fields.
CAER Heritage Project co-director Olly Davis said 'During the 2013 dig more than 1,000 local people visited the excavations while they were in progress and 120 more were directly involved in the archaeological work. Our challenge this year is to attract twice as many visitors and to get the people of South Wales to value this amazing site and the remarkable communities which live in its shadow.'
'The CAER Heritage Project takes an inclusive and open access policy towards archaeological excavation and welcomes the contribution and involvement of all. Local people are warmly invited to visit and get involved in this second season. People can find out more about how to get involved at the CAER Heritage project website or contact us on Facebook or Twitter.'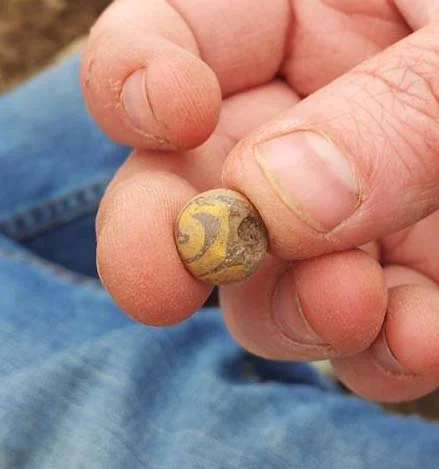 Dave Wyatt, CAER Heritage Project co-director added 'The CAER Heritage Project's objective is to help the people of Caerau and Ely to connect with this site's fascinating the past and make it relevant to the present. From the outset the project's key objectives have been to put local people at the heart of archaeological research, to develop educational opportunities and to challenge unfounded stereotypes ascribed to this part of Cardiff.'
'This year is particularly exciting as the excavation is part of a wider Connected Communities festival taking place in Cardiff Bay on 1st-2nd July celebrating university and community collaborations from across the UK. This festival will include other CAER Heritage project initiatives such as community produced interactive exhibition of local photographs of Caerau and Ely at St Fagans National History Museum, a series of film screenings about last year's community excavation and a community banner procession with street dance and music in the Bay!'
The Digging Caerau 2 Excavations commence on 30th June 2014, to find out more visit: www.caerheritageproject.com

CAER HERITAGE PROJECT BACKGROUND
The CAER Heritage Project is a collaborative project between Cardiff University, Action Caerau and Ely (ACE), local schools and local residents. The project is based around Caerau Iron Age hillfort, and seeks to engage local people and school children (including the long term unemployed and young people excluded from schools) in their shared history and help challenge marginalisation and tackle poverty, both real and aspirational, through a range of educational and creative opportunities including school projects, adult education courses and informal learning through community and experimental archaeology, artwork and heritage trail design and creation.
For further information visit: http://caerheritageproject.com/
CAER Heritage Project website including blog:
http://caerheritageproject.com
Facebook Page with information & images cataloguing the project from its early days and evidencing extensive local engagement, 421 likes: http://www.facebook.com/#!/CAERHeritageProject
CAER Heritage on Twitter at: @CAERheritage 258 followers
Films about the project:
AHRC produced film of Digging Caerau launch February 2013 and excavation July 2013, including endorsement by Huw Lewis, the Minister for Housing, Regeneration and Culture (now Minister for Education and Skills)
http://www.youtube.com/watch?v=uic3R154154
Great short film providing participant perspectives of 2013 excavation made by local film maker Viv Thomas:
CAER Excavation on BBC Wales National News, interview with Olly Davis:
http://www.bbc.co.uk/news/uk-wales-23026691
Timeteam Interview with Project PI Dave Wyatt
http://www.youtube.com/watch?v=O_XTulzqTlA
Timeteam Interview with Project Artist Paul Evans
https://www.youtube.com/watch?v=auotOtIdcxs
CAER Project Booklet (Stage 1):Including introduction by Mark Drakeford, Welsh Minister for Health and Social Services.
http://caerheritageprojectdotcom1.files.wordpress.com/2013/01/caerbooklet_english.pdf
THE SITE
Excavations at the site undertaken last year by the community yielded pottery a mass of finds revealing an early occupation date for what became a huge fort with massive ramparts – probably a centre of the famous tribe, the Silures, who later gave the Romans so much trouble. There's excellent evidence of Bronze Age and Roman activity on the site and later of a Norman ringwork. The Norman fort is adjacent to a 13t-century church which is now a fragile ruin.

LOCATION: For those visiting by car Caerau Hillfort is easily accessed via Cowbridge Road West (A48). The Post Code is CF5 5NH for those of you with SatNav capability. Travelling from Culverhouse Cross on Cowbridge Road West, take the second right after B&Q marked Heol Trelai. After about 1 km take a right turn when you see the Home Guard Club on to Church Road. Continue passed the Post Office to the end of Church Road (you will need to turn right to avoid continuing into Hillfort Close!) and park up near to the Council's traffic barrier at the bottom of the hill. You then need to walk up the lane to the hillfort, do take care as there may be some dig traffic on the lane.
WHAT WE CAN OFFER?
The CAER project offers a significant range of angles including community interest, archaeological discovery but also more serious issues such as poverty, educational challenges and how pride in heritage and sense of the past can be utilised to deliver significant transferable skills and community confidence and regeneration. We can offer full access to the site and its range of activities with a 'cast' of internationally renowned Iron Age experts and a medieval historian, community development workers with longstanding involvement in the project, local school teachers and pupils, local young people, undergraduate students, unemployed local residents, heritage professionals and potentially politicians (the project has the support of Mark Drakeford and Eluned Parrot).
The key high school we work with is Glyn Derw High and Michaelston Community College and we have a special working relationship with them, they have embedded a number of CAER project activities into their curriculum already. This is significant because this is Jason Mohammed's old school and he took great interest in the excavations last year which featured twice on his morning radio show with a live broadcast from site.
The site itself is very photogenic and affords panoramic views right across Cardiff to the Bay especially from the medieval ringwork.
The story also has a science and environment angle as we will be scientifically sampling the Iron Age remains and bone from the site to discover more about the environment, diet and lifestyle of the Iron Age people of the Cardiff basin.
WHAT IS HAPPENING THIS JULY DURING THE EXCAVATIONS?
The Digging Caerau 2 Iron Age Excavation
30th June – July 25th A major community excavation will take place on Caerau hillfort involving local residents and schoolchildren as well as academics and undergraduates from Cardiff University. Local people will be involved in all aspects of the dig including hands-on excavation, finds processing, drawing and planning. The excavation will be open 6 days a week (Monday to Saturday) and there will be a range of other community engagement activities taking place on site alongside it including making Iron Age pots, designing tribal logos, postcards to the Iron Age etc…
Dates 30th June – 25th July
Times. Dig open to visitors from 10am-4pm
Exhibition: Digging the Past: Photos and Iolo – Images Objects and Riddles from Caerau & Ely
An interactive exhibition designed and co-produced for the CAER Heritage by artist Paul Evans and the communities of Caerau and Ely. The exhibition stars Iolo the bard and hundreds of photos of Caerau and Ely, past and present. See if you can find Iolo in the pictures – and use riddles designed by local schools to guess what he has hidden in his bag. If successful a CAER project exhibition photobook will be your reward!
Location: St Fagans National History Museum, located 4 miles west of Cardiff City Centre, just off the A4232., CF5 6XB
Dates 1st-2nd July
Times. Exhibition open to visitors from 10am-4pm
Caeraustock Film Screenings
During the 2013 Digging Caerau excavations, an unemployed local filmmaker, Viv Thomas, filmed every aspect of this community dig and interviewed many participants and visitors. Viv has many hours of footage and, together with the CAER Project team, he has established a collaborative collective which has co-produced a series of interlinked 'viral' short films with a range of local community groups. The films present a range of creative interpretations of Viv's extensive footage from different perspectives. Entitled collectively as Caeraustock, the films will be screened simultaneously during the Festival to audiences across three locations: within Caerau hillfort, at St Fagans National History Museum and at the St David's Conference Centre. The film production and screening will thereby link these locations and their audiences, providing a powerful example of CAER project themes co-production and valuing community heritage
Locations:             Caerau Hillfort, CF5 5NH
St Fagans National History Museum, CF5 6XB
CAER stand, St David's Conference Centre
Date 2nd July
Time 1-2pm
Digging CAER (The Virtual Trench) Project Stand, St David's Conference Centre
Closely interlinked with the Digging the Past Exhibition and Digging Caerau Excavations, the CAER Project Stand will be founded upon principles of co-production; created and delivered by a collective of academics, local film makers, pupils, teachers, community members and a professional artist. The CAER Stand includes an interactive 'virtual' dig that brings the off-site hillfort excavation to the heart of the Connected Communities Festival. There will be a live daily 'CAER TV' Skype broadcast from the site at Caerau, enabling visitors to interact directly with the archaeologists and participants and ask questions about the finds. Visitors will also be able to participate in the experience of archaeological research at the Stand's 'CAER Finds Desk' where they will have the opportunity to work alongside community members processing archaeological finds from the excavation. A shuttle bus to Caerau Hillfort excavations and the CAER exhibition at St Fagans National History Museum will be available every 40 minutes from St David's Conference Centre for the duration of the Connected Communities Festival (1st& 2nd July).
Locations: CAER stand, St David's Conference Centre
Dates 1st-2nd July
Times: 9.30am-5pm
The Arts and Humanities Research Council(AHRC) Connected Communities Festival
The Connected Communities Festival will provide University researchers and community and other partners with an opportunity to reflect, share learning and discuss their research with other participants within the AHRC Connected Communities programme and to engage with researchers, communities and community organisations not currently involved in the Programme. The Festival will take on the role of previous summits and showcases as the major open public outreach event for the Programme in 2014 as well as main large forum for networking.
Free and open to the public, the two-day Festival will comprise a mix of performances, exhibition stands, talks, music events, bazaars, workshops, film screenings, games, discussions, walks, digital activities, pop-up events and much more.
Among the activities featured will be:
archaeological demonstrations at the Caerau Iron Age hill fort and St David's venue
a talk by National Poet of Wales Gillian Clarke
an Antiques Roadshow-style event to which everyone is invited to bring along their World War One objects and artefacts to be assessed and digitised by academic experts
an intergenerational procession of banners celebrating the industrial history of Cardiff, Merthyr Tydfil and other places in South Wales
pop up Community News Cafés at the two main venues, hosted by community journalists, where debates and discussions will take place
a DIY music event featuring reflections on the DIY music scene from its practitioners and live performances
opportunities to get involved in dance, music, crafts and many other activities
Two main venues will host these and many other events, with other fringe venues such as the Norwegian Church, the Pierhead and Butetown Arts Centre also being used. Travel between venues will be available.
Location: CAER stand, St David's Conference Centre
Dates 1st-2nd July
http://www.ahrc.ac.uk/Funding-Opportunities/Research-funding/Connected-Communities/Events/Pages/Connected-Communities-Festival-2014.aspx
Contributing Source: Arts and Humanities Research Council
Header Image Source: Arts and Humanities Research Council
Download the HeritageDaily mobile application on iOS and Android
---
Planet Knowledge is a FREE to watch video on demand channel available on Freeview HD (Channel 265), Youview, Samsung connected TV's, selected smart tv's, tablets and smartphones using Android or iOS. Find out more