Archaeologists from the Institute of Archaeology of the Russian Academy of Sciences, working on behalf of the Volga Expedition, have uncovered a Muromian burial ground on the left bank of the Oka River in the city of Muroma.
The Muromians are generally described as a Volga-Finnic people that lived in the Oka River basin in Russia's present day Vladimir Oblast. The Muromians paid tribute to the Rus' princes and, like the neighbouring Merya tribe, were assimilated by the East Slavs in the 11th to 12th century AD as their territory was incorporated into the lands of the Rus'.
Excavations have uncovered the remain of 13 individuals, most of which are predominantly male inhumation burials oriented to the north. Among the male burials are associated grave goods consisting of weapons such as spears, axes and ice picks, in addition to coins (dirhams) and 5 lead weights.
In one notable burial are high status items such as an axe, a spear, a knife, a cauldron made of non-ferrous metal, four bronze bracelets and two silver rings. Also in the burial is a belt plaque made of white metal covered in gilding and a beaver tail bag containing two dirhams. According to the researchers, the find is comparable to Hungarian-type belts found over a wide area from the Perm Kama region to the Carpathian basin.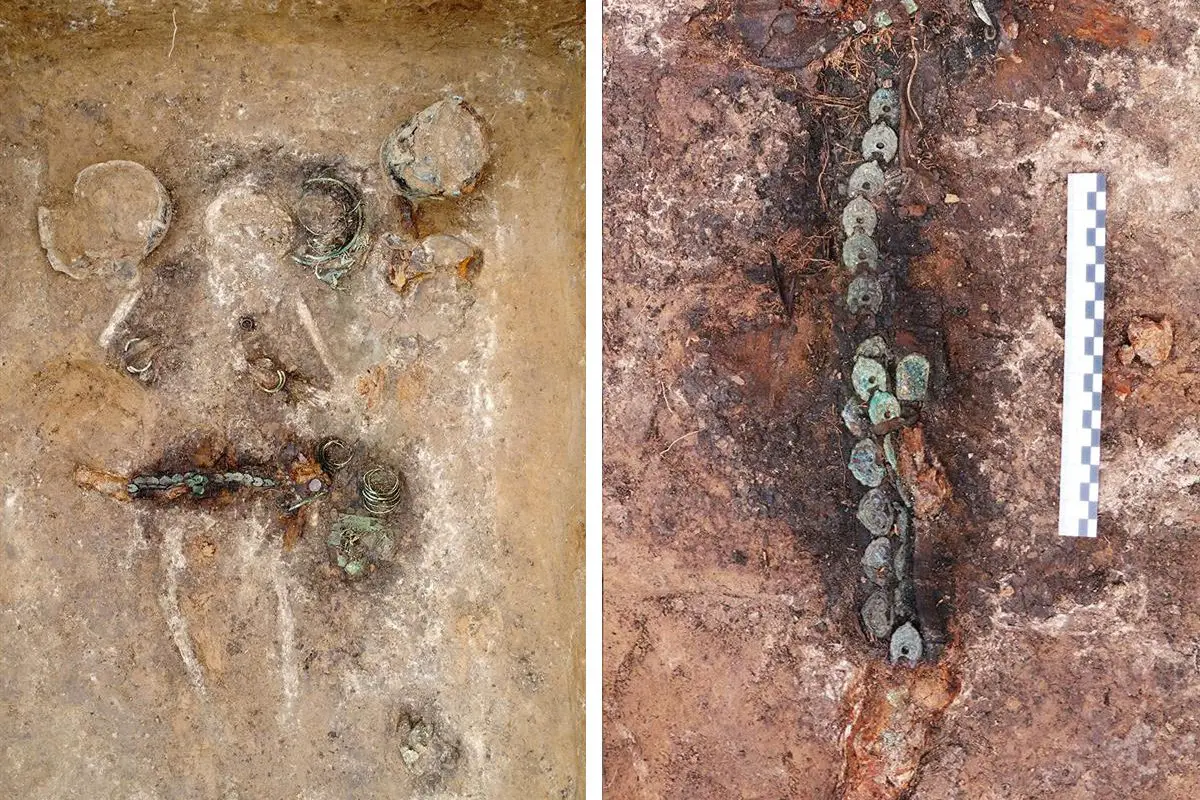 A closer study of the dirhams (an Islamic currency), places the coins to the beginning of the 10th century AD when dirhams were commonly used in Europe and are found in areas with Viking connections, such as Viking York and Dublin.
Deposited to the left of the burial are items of women's jewelry, including pendants from a headdress, Muromian temporal rings, a Glazov-type torc, bracelets, and an openwork belt buckle.
Institute of Archaeology of the Russian Academy of Sciences
Header Image Credit : Institute of Archaeology of the Russian Academy of Sciences