A team of archaeologists have uncovered a 2,000-year-old Roman winery in Rome, revealing new insights into the cultural importance of agriculture in ancient Rome and its role as a form of entertainment for the highest echelons of society.
The winery was found in the lavishly decorated Villa of the Quintilii, where the day-to-day production of wine was presented as entertainment for wealthy, powerful Romans, perhaps including the emperor himself.
Excavations at the site, which are published in the journal Antiquity, revealed a complex system of rooms and channels used for wine production and storage. The wine making process would have begun in the treading room, which unlike other waterproof plaster-covered examples from the same period, was found to be clad with expensive red marble.
The slippery nature of marble makes it an unusual choice for a production area and further hints at the importance of theatricality at the winery. The excavations, which began in 2017, also revealed the mechanisms of two large presses and a multicoloured marble-clad fountain-like system through which wine flowed to storage jars in the cellar.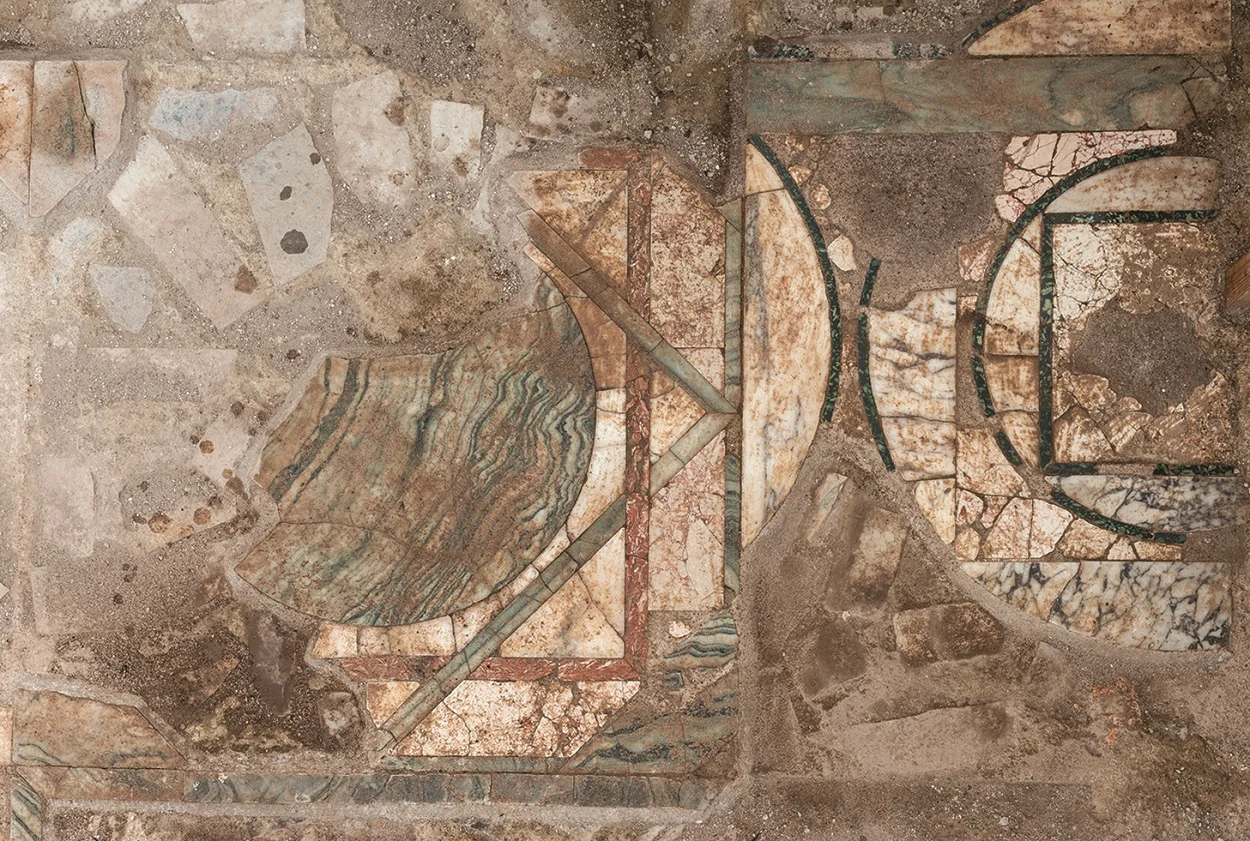 A series of lavishly decorated rooms surrounding the winery were likely used by the emperor and his retinue to dine while observing the wine being made. Each of these rooms have wide open entrances which offered an expansive view of the workers and the mechanisms of the winery system.
Lead author Dr Emlyn Dodd, previously of the British School at Rome and now based in the Institute of Classical Studies, University of London, said: "Agricultural labour was romanticised by the ruling classes of many ancient cultures, especially as it was often the source of both their wealth and status. The excavations at the Villa of the Quintilii reveal to us how ancient Roman elites reimagined the annual vintage as a "theatrical" performance, prioritising the experience of those observing over the practical needs of the workers.
"It would have been a real spectacle for those watching, the combination of fountains of wine and water, luxurious materials – especially the thin white marble channels through which the wine could be seen flowing – and the sounds of the workers and music would have resulted in a theatrical show."
The Villa of the Quintilii was part of the imperial estate and both its proximity to Rome and luxurious decorations, suggest that it may have played an active role in imperial life. Compared to other imperial properties, where once-lavish quarters were later transformed for utilitarian use, Gordian's imperial court may have visited the Villa of the Quintilii for a ritual at this facility associated with the annual vintage.
The winery's discovery has also increased our knowledge of the brief reign of Gordian III, who we now know began a program of monumental construction focused on infrastructure and restoration of facilities for spectacle, including Rome's famous Colosseum.
---
https://doi.org/10.15184/aqy.2023.18
Header Image Credit : Antiquity