Archaeologists have found a rare Iron Age wooden axle, possibly from a chariot or cart during excavations in in Suffolk, England.
The discovery was made by Cotswold Archaeology in advance of tree planting at the Sizewell C new nuclear power station, revealing two waterlogged pits that were likely watering holes for livestock during the Iron Age.
Sizewell C is a project to construct a 3,200 MWe nuclear power station with two EPR reactors, expected to commence before 2024, with construction taking between nine and twelve years to complete.
The axle was identified by dendrochronologist Michael Bamforth – Research Associate at the University of York, and Honorary Research Fellow at the University of Sheffield.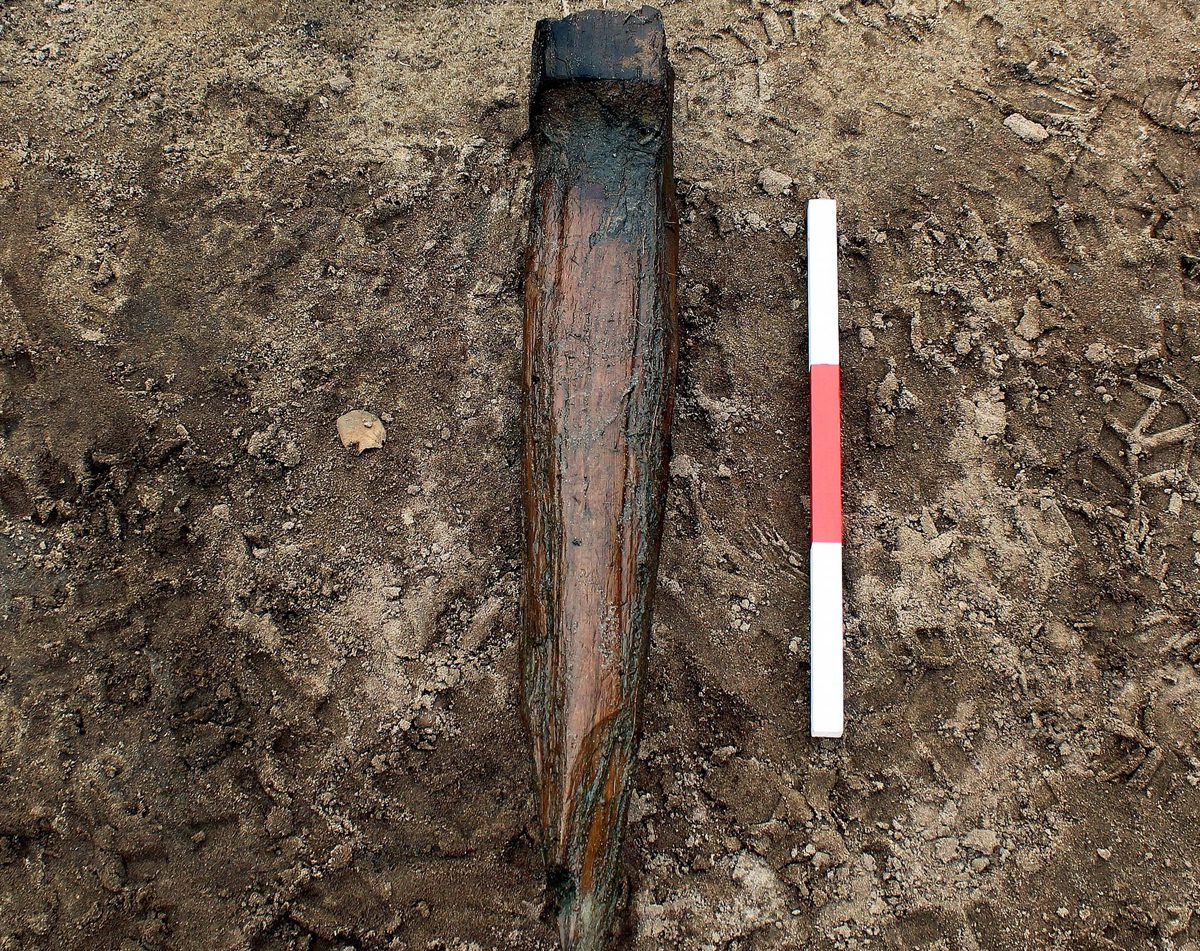 The discovery is incredibly rare, as normally wood decomposes and is broken down by fungi and micro-organisms such as bacteria.
Less than 5% of archaeological sites across England have evidence of wood surviving from this period, however, the waterlogged conditions have meant that oxygen is unable to penetrate the wood, preventing bacteria from being able to thrive.
The axle was uncovered at the base of one of the pits which had been repurposed within a stake revetment, preventing the collapse of the waterhole.
It was found alongside charred boards possibly from the same vehicle, and is carved from hazel, a deciduous tree native to the UK. Most of the spindle (for the wheel hub) has survived, in addition to part of the rectangular axle-bed for securing the underside of the vehicle.
A radiocarbon analysis has determined that the axle dates from 400 to 100 BC during the Middle Iron Age, with only a handful of similar finds surviving from prehistory in Britain at sites such as Flag Fen in Peterborough.
The researchers hope that the discovery will reveal new insights into our understanding of vehicles and transport during the Iron Age in Britain.
Header Image Credit : Cotswold Archaeology