Mystras, called the "wonder of Morea" was the capital of the Byzantine Despotate of Morea in the 14th and 15th centuries AD, located on Mount Taygetos in the Peloponnese region of Greece.
Construction began by William II of Villehardouin, ruler of the Frankish Principality of Achaea during the mid-13th century, who constructed a fortress on a spur of Mount Taygetos near the ancient city state of Sparta.
In 1259, William was defeated in battle by the Nicaean emperor Michael VIII Palaiologos, swearing an oath of fealty in exchange for his freedom and agreeing the cession of Mystras to the Byzantine Empire.
By the 13th century, Mystras served as the provincial capital and a royal seat, growing in stature as a centre of Byzantine learning and culture. From 1349 until its surrender to the Ottoman Turks in 1460, Mystras was the residence of a Despot who ruled over the Byzantine Morea, known as the "Despotate of the Morea".
The territory was ruled by the sons of the Byzantine emperor, given the title of Despotes who secured a long period of prosperity by maintaining peaceful relations with the Latin and Ottoman neighbours.
Many monastic institutions were founded in the city, including the Brontochion and the monastery of Christos Zoodotes (Christ the Giver of Life), with the bishopric being transferred from Sparta. The Despotes constructed numerous churches, palaces and public buildings in a distinct style of architecture, influenced by the so-called "Helladic" school of Byzantine architecture as well as the architecture of Constantinople.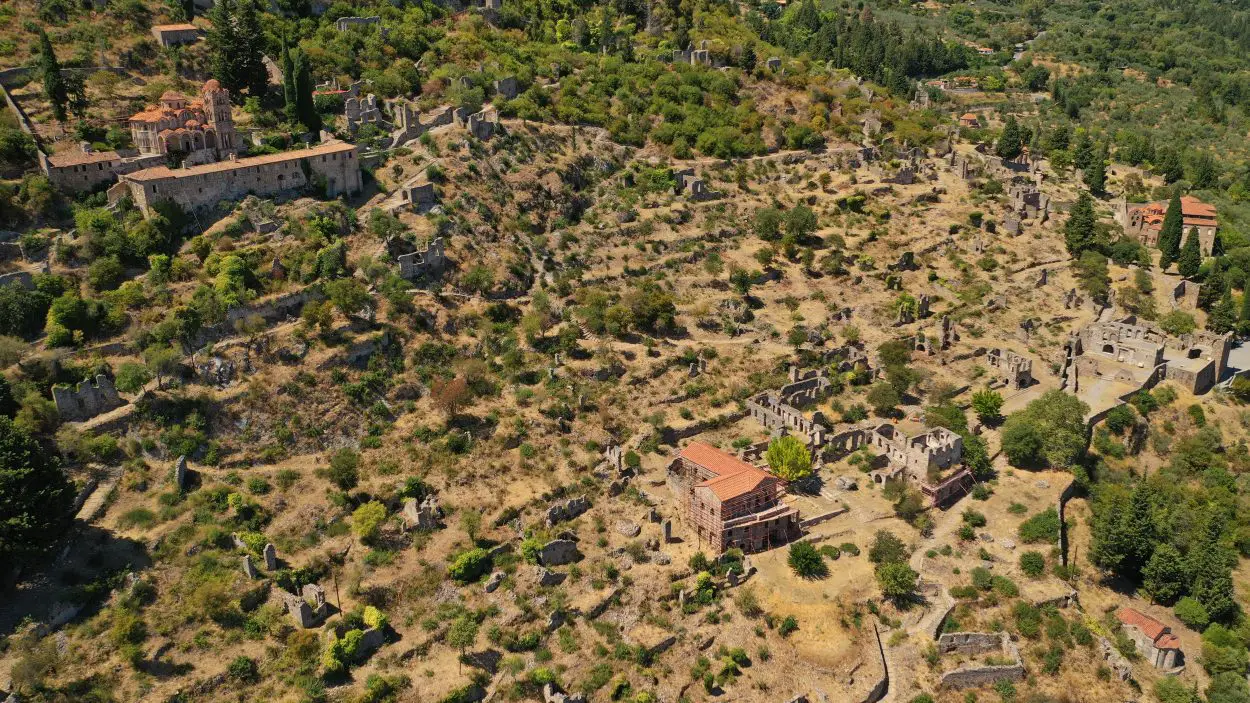 During the Palaeologan Renaissance, the city was renowned for its libraries and famed scholars, including the philosopher Georgios Gemistos Plethon and his pupil, the intellectual Bessarion, who brought neo-platonic humanism to Italy.
In 1460, Mystras was surrendered to the Sultan Mehmed II, who conquered Constantinople and brought an end to the Byzantine Empire. Under Ottoman rule, it became part of the Sanjak of Mezistre, but supported the Orlov revolt (a Greek uprising in the Peloponnese in 1770) that resulted in the city being sacked by Albanian Ottomans who killed many of the Greek inhabitants.
The Greek War of Independence in 1823 saw the final days of Mystras, where the Egyptians under the rule of Ibrahim massacred the local population and destroyed the remaining parts of the city still occupied.
Header Image Credit : Aerial-motion – Shutterstock