Ayaz-Kala is a complex archaeological site, consisting of three phases of fort construction located on the edge of the Kyzylkum Desert in Karakalpakstan, Uzbekistan.
Ayaz-Kala was part of a defensive line to defend agricultural settlements against nomadic raiders, and from the Saka people from the northern and eastern Eurasian Steppe.
The fortresses were built from the 4th century BC to the 7th century AD, by the Khwarazmian speaking people who inhabited a large oasis region on the Amu Darya River delta, with each fortress designated as Ayaz Kala 1, Ayaz Kala 2, and Ayaz Kala 3.
Ayaz Kala 1 is the earliest construction from the end of the 4th, or beginning of the 3rd century BC when the Khorezm Region became independent from Persia. The fortress is rectangular in plan, with an inner and outer wall accessed by a large gateway with two rectangular towers. Occupation of the fortress continued through to the 1st century AD, although the ruined walls may have provided refuge for local inhabitants well into the early medieval period.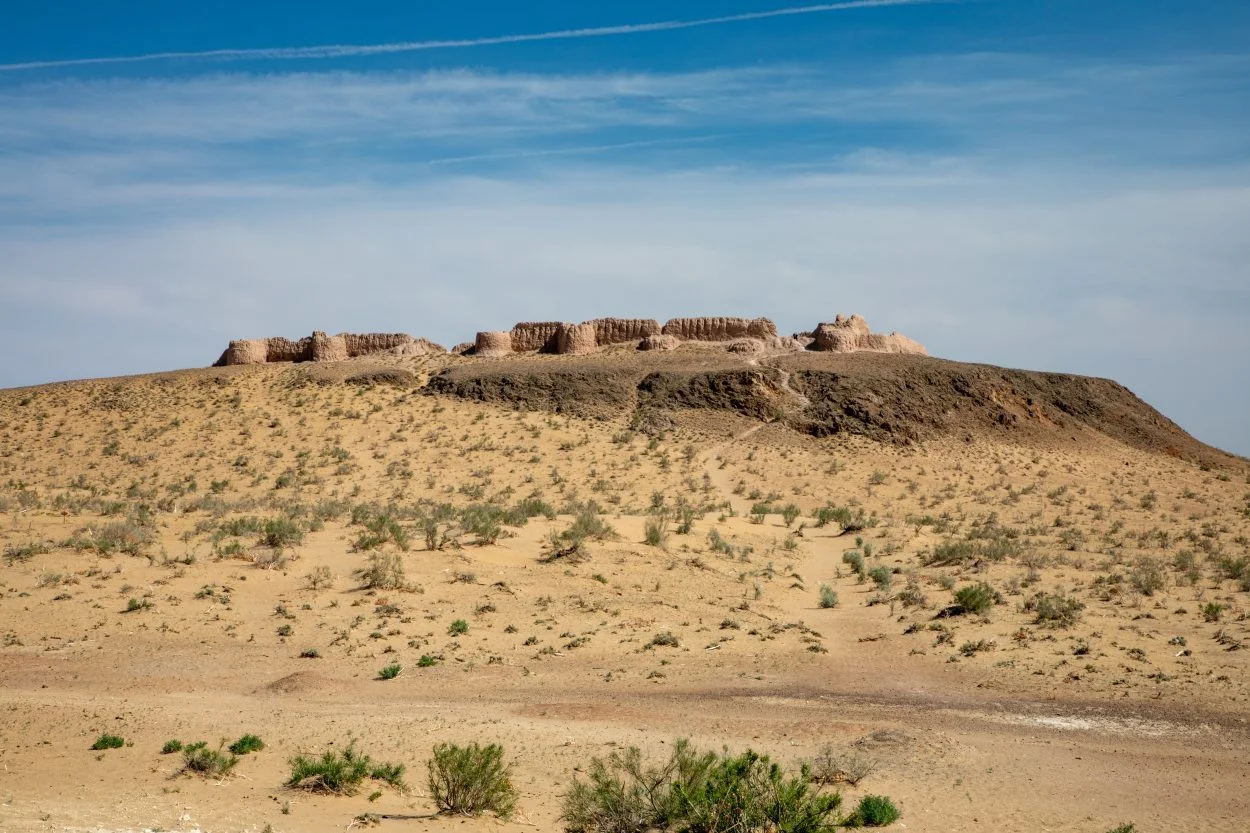 Ayaz Kala 2 was a feudal fortress from the 7th to 8th century AD during the Afrighid period, when Khorezm was ruled by the Afrighid dynasty of Khorezmshahs. The fortress was built on a conical hill located south of the main hill on which Ayaz Kala 1 is built.
Ayaz Kala 2 consists of an entry inclined platform, and a main oval shaped platform identified as a palace with large columned halls, residential quarters, and a fire sanctuary from the 4th century AD. The palace was destroyed by two successive fires, but continued to be used as a domestic dwelling into the 6th to 7th century AD, whilst the wider side was occupied into the 13th century AD.
Ayaz Kala 3 dates from the 1st to 2nd century AD, serving as a garrison fortress and possible rulers' residence during the Kushan period to defend surrounding farmsteads and dwellings. Ayaz Kala 3 is the largest of the three fortresses, built in the shape of a parallelogram, with the main interior building consisting of four main parts which could have housed up to 10 dwellings.
Header Image – Ayaz Kala 2 in foreground below Ayaz Kala 1 – Image Credit : octopuzz – CC BY 2.0