The so-called Greek Pyramids, also called the Pyramids of Argolis, are several frusta or truncated pyramidal shaped structures and "blockhouses", located on the eastern part of the Peloponnese peninsula in present-day Greece.
Although the structures are distinct in form and shape from typical Ancient Greek architecture, mention of the monuments in antiquity is scarce, with only the geographer Pausanias (AD 110-180) observing a single pyramidal monument (although associating Pausanias's text with the Pyramids of Argolis is contested) in his Corinthiaka that states:
"Traveling from Argus to the region of Epidaurus, there is a building to the right that resembles very much a pyramid and bears relief carved shields of the shape of the Argolic shields. In this place Proetus had battled with Acrisius for the throne and they say that the battle ended without a winner; for this reason, they were later reconciled, as none could achieve a decisive victory. It is said that this was the first time that men and armies equipped with shields clashed; for those that fell in this battle from both armies, since they were compatriots and even relatives, a common tomb was built in that place."
Groups of possible pyramidal structures have been identified at Ligourio (Argolida), Kambia (Argolida), Viglafia (Lakonia), and Elliniko (Argolida), with the pyramid of Hellinikon at Elliniko being the best preserved and studied.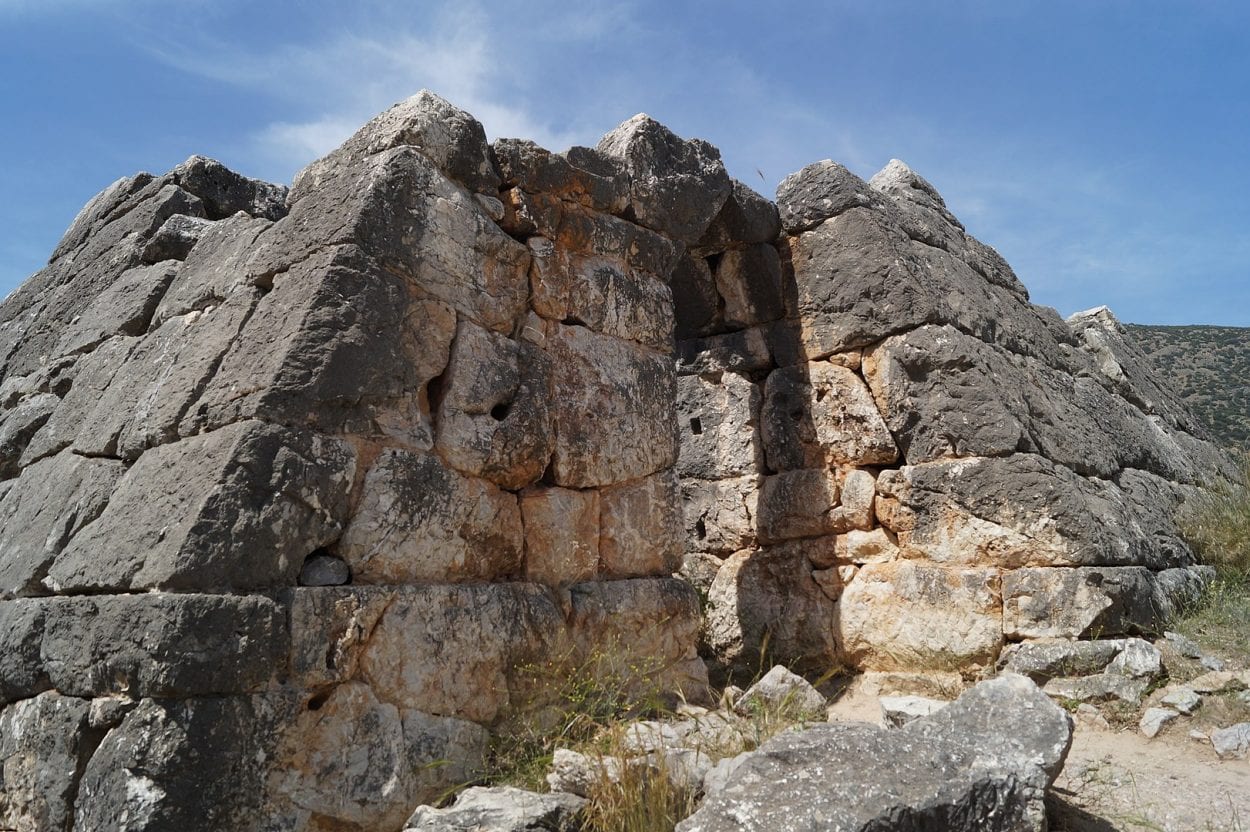 Dating of the monuments has been troublesome due to the lack of archaeological material, with previously disputed studies of ceramics from the Protohelladic II period dated to 2800–2500 BC, early hermoluminescence dating giving a range of 2500–2000 BC, but many proponents support the proposed construction during the Late Classical Hellenistic period, centred on the later 4th century BC.
Historical theories for the structures function have tried to establish an "Egyptian connection", suggesting guard houses for Egyptian mercenaries, or burial practices that paralleled with the Ancient Egyptians, but these theories lack all credibility and without evidence.
The more likely theory looks at the structures' presence of internal walls, small rooms, cisterns, the provision of a water supply, and internally fastened doors within the monuments, that Young (1957) and Fracchia (1985) proposed was for an agricultural function, possibly with a secondary function of providing a refuge in turbulent times.
Header Image – Helliniko – Image Credit : Trakadas Ilias – Shutterstock