The so-called Etruscan Pyramid is a megalithic rock-cut monument, located in the Tacchiolo valley near the city of Viterbo, Italy.
The monuments name is owed to its lateral pyramidal shape carved from natural magmatic rock, whilst its construction is probably first attributed to the Rinaldonian Civilisation that preceded the Etruscans. The Rinaldonian Civilisation emerged between 4000-2000 BC, and were highly skilled in working stone to construct complex ceremonial monuments, such as the Poggio Rota Stone Circle in Tuscany.
Other sources still suggest that the pyramid was an Etruscan construction, or was adapted from Rinaldonian construction from around 700 BC to 400 BC, which has some weight as a theory, as there are several other Etruscan ruins in the vicinity.
The Etruscans emerged around 900 BC and established three confederacies of cities, until they were succeeded by the rising Roman Kingdom that spread to dominate the region in the 5th and 4th century BC.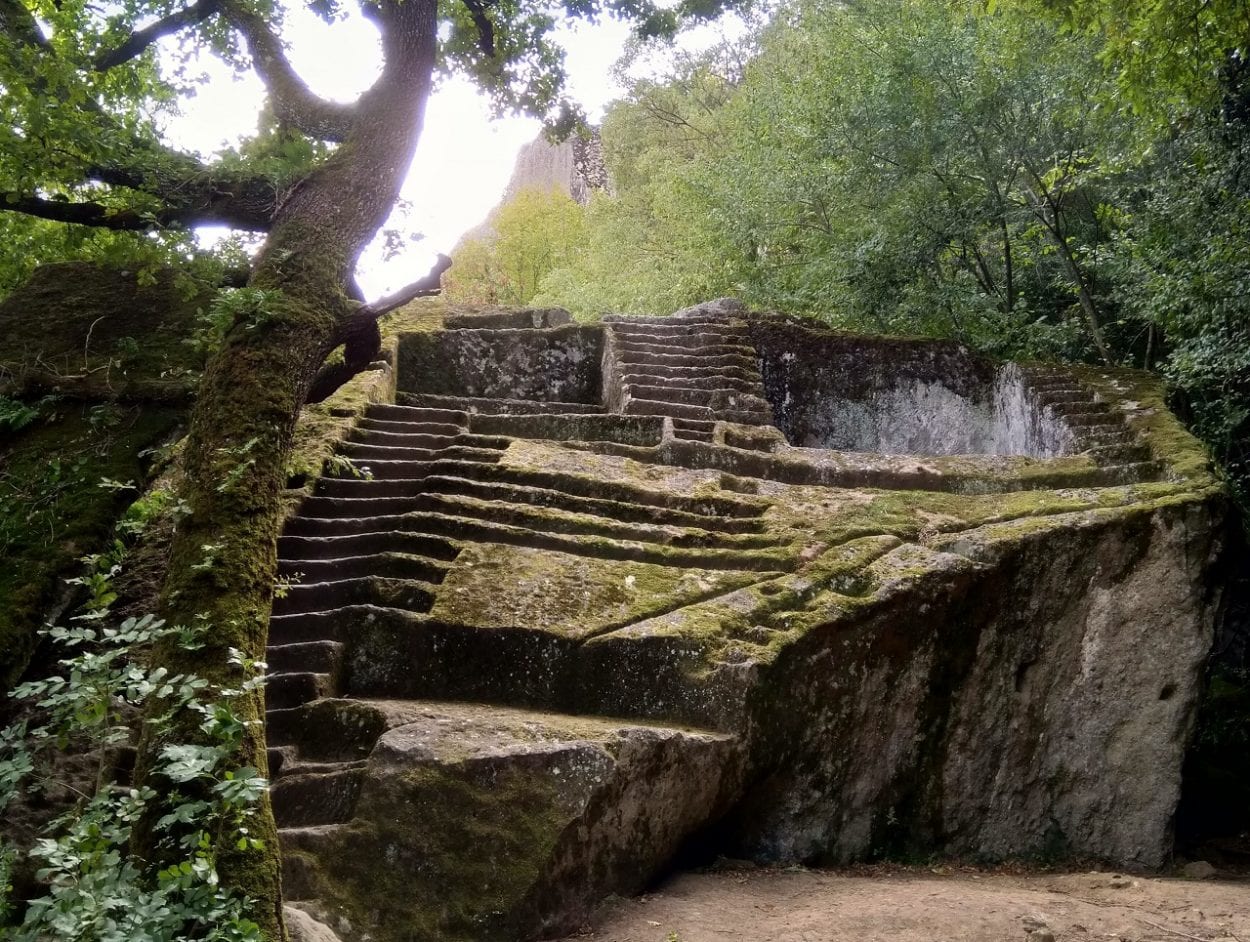 The pyramid was carefully sculpted from a single block of volcanic rock, and frontally looks more like a large altar complex with a series of terraces accessed by staircases. On the left side of the pyramid, a long staircase reaches the first altar, whilst on the right side there is a second altar flanked by a ladder.
Between both areas, a series of larger steps has been cut leading to the "high place", that is hypothesized to serve a religious purpose in connection to water. This theory is supported by a quadrangular stone basin that overlooks the pyramid for sacred ablution rites (a ceremonial act of washing parts of the body, animals, or sacred containers), whilst a long channel cut in the rock was probably used for the drainage of liquids.
The suggestion of sacrificial ceremonies has not been ascertained, but the positioning of the monument results in it being completely obscured from the sun by noon, whilst its alignment faces a northwest direction which the Etruscans believed the gods of the underworld lived.
The pyramid was first discovered by two local archaeologists, Giovanni Lamoratta and Giuseppe Maiorano in 1991, but the discovery gained little attention from scholars and academics. It wasn't until 2008, that Salvatore Fosci, a local resident of Bomarzo cleared the overgrown vegetation to reveal the magnitude of the monument.
Header Image Credit : Alessandra C84 – Shutterstock