The Sun Temple is an ancient Hindu temple complex located on a latitude of 23.6° (near Tropic of Cancer), on the banks of the Pushpavati river at Modhera in Gujarat, India.
Oral tradition believes that Lord Rama performed a yajna sacrifice at the site and built "Modherak" which subsequently came to be known as "Modhera".
The first phase of construction is attributed to Bhima I (1022–1064 AD), a king of the Chaulukya dynasty (also known as the Solanki dynasty, considered to be Suryavanshis, or descendants of 'Sun god') who is also credited with the early phases of the Dilwara Temples.
The Sun Temple was dedicated to the solar deity Surya, traditionally depicted in reliefs riding a chariot harnessed by horses, often seven in number which represents the seven colours of visible light, and seven days in a week. The Vedic scriptures of the Hindu religion refer to the sun as the source of energy, vitality, and life which controls the course of our life.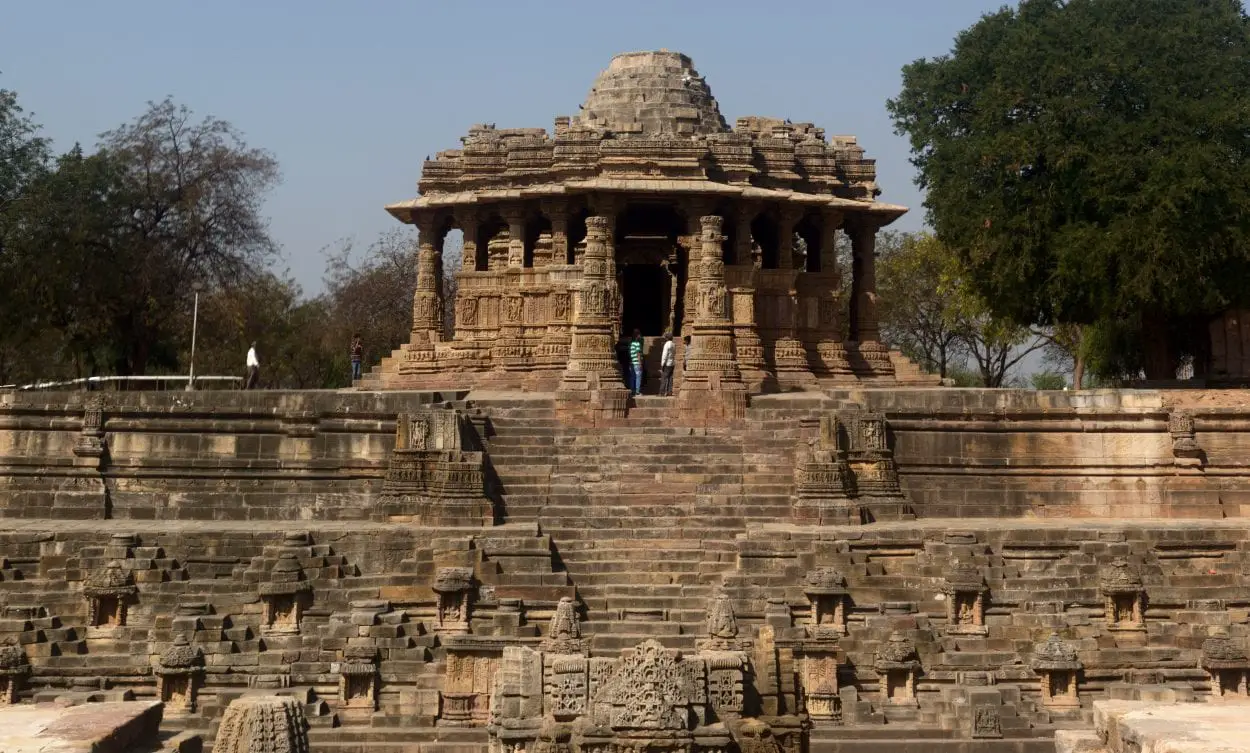 Reliefs within the Sun Temple curiously portray Surya wearing Western-Asian boots and belts, interpreted as a possible Persian influence, whilst other deities such as Shiva, Vishnu, Brahma and Nāga are also depicted in various forms.
The temple complex consists of three distinct components: the Gudhamandapa (the shrine hall), Sabhamandapa (the assembly hall), and the Kunda (a sunken reservoir).
The Gudhamandapa is divided into the Gudhamandapa (the hall), and the Garbhgriha or sanctum sanctorum, which was orientated to illuminate an image of Surya during the solar equinox and the summer solstice (with some sources citing a diamond placed on the Sun God's head).
The Sabhamandapa (the assembly hall) is an architectural parallelogram in form, giving an impression of a star-like structure, with 52 intricately carved pillars and various centrally positioned reliefs of Surya.
The Kunda, (also called the Suryakunda) is a deep stepped tank consisting of four terraces and recessed geometric steps that was used as a reservoir, which may have originally been fed by an underground spring. Several miniature shrines and niches in front of terrace-walls depicted images of many Vaishnavite deities and goddesses such as Shitala.
Header Image Credit : Tristan Ferris – CC BY 2.0