Royston Cave is an artificial cave located beneath the streets of Royston in Hertfordshire, England.
The cave was constructed as a circular, bell-shaped chamber sunk into the chalk bedrock near the junction of the prehistoric and Roman trackway, known as the Icknield Way, and Ermine Street (the Roman Road from London to York).
The cave measures 8 metres in height, by 5 metres in diameter and contained a circumferential octagonal podium with a narrow-domed roof. A study suggests that the cave was divided into two levels, by a wooden frame or trestle that supported a raised platform.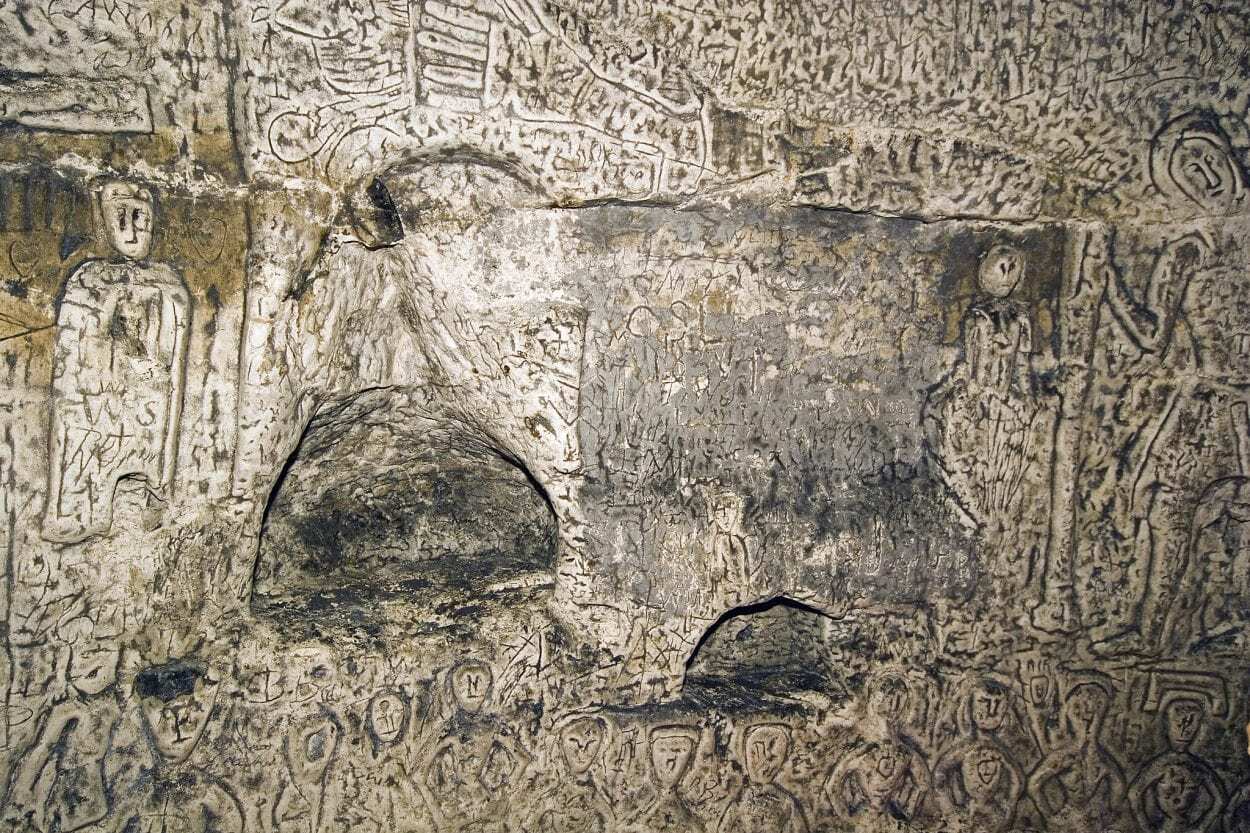 The cave walls are decorated with an elaborate series of carvings unique in Britain, and only comparable to medieval carvings found in sites across central Europe and Israel.
Some of the depictions represent the Crucifixion, and possibly of the Holy Sepulchre and Holy Family, as well as St Katherine, St Lawrence, St Christopher, St George, Thomas Becket, and Richard I.
Christ, his disciples and figures of saints and martyrs are also believed to be depicted, with the latter being presented with crosses and hearts adorning their clothing.
The carvings appear to correspond to the 13th century (based on their stylistic representation), but this is where the mystery of Royston Cave has caused debate amongst academics who try to determine its origins and function.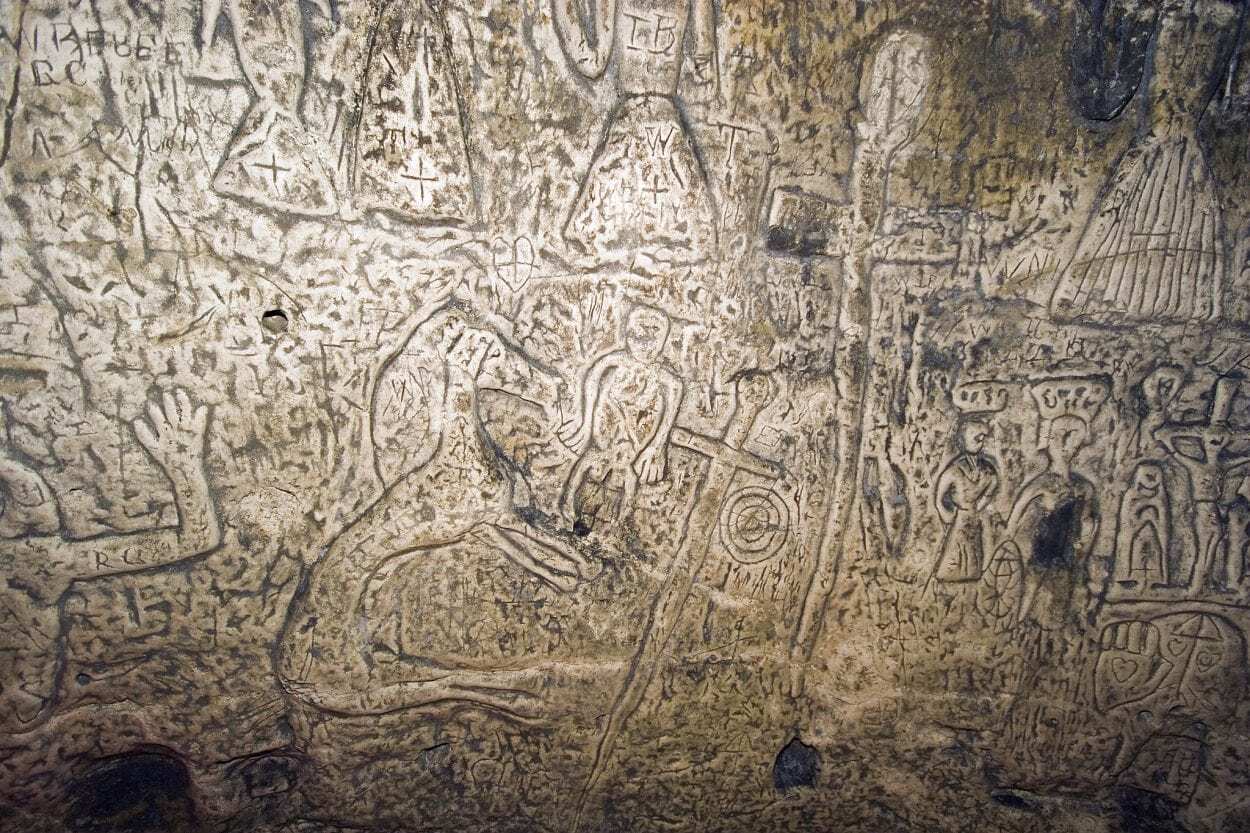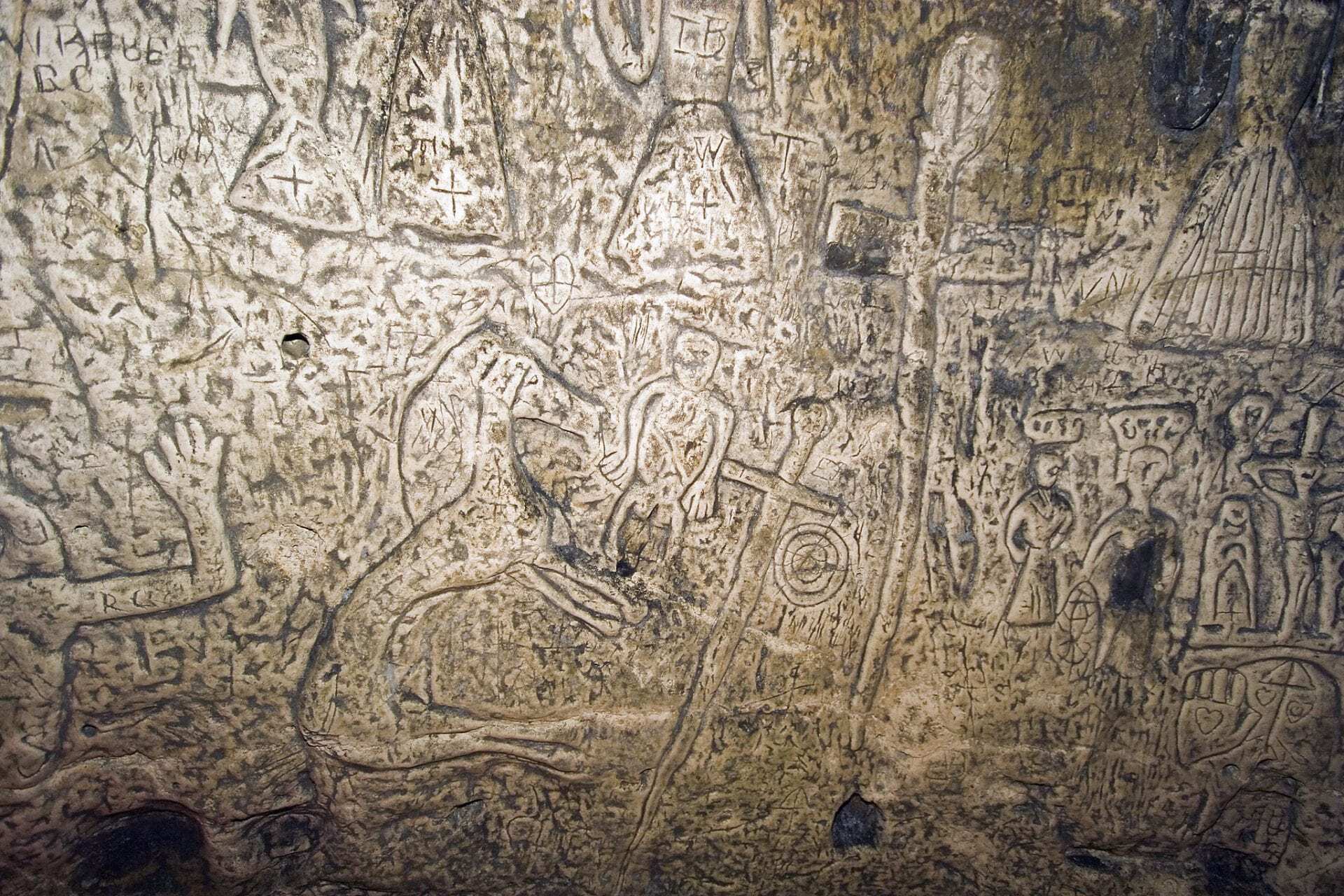 One such theory suggests that the cave was used as a secret meeting site for members of the Knights Templar, who held a stronghold in the nearby town of Baldock (using Baldock as a money-making enterprise to finance their crusades to the Holy Land).
Other theories try to connect the cave with Freemasons, suggesting that King James I used the cave to practice freemasonry (although James's involvement in freemasonry is disputed) and the site functioned as an early Freemason's Lodge.
It has also been suggested that the cave was built as a private chapel for the wife of William the Conquerer's steward, Lady Roisia (for which the name "Royston" derives from "Roisia's Town").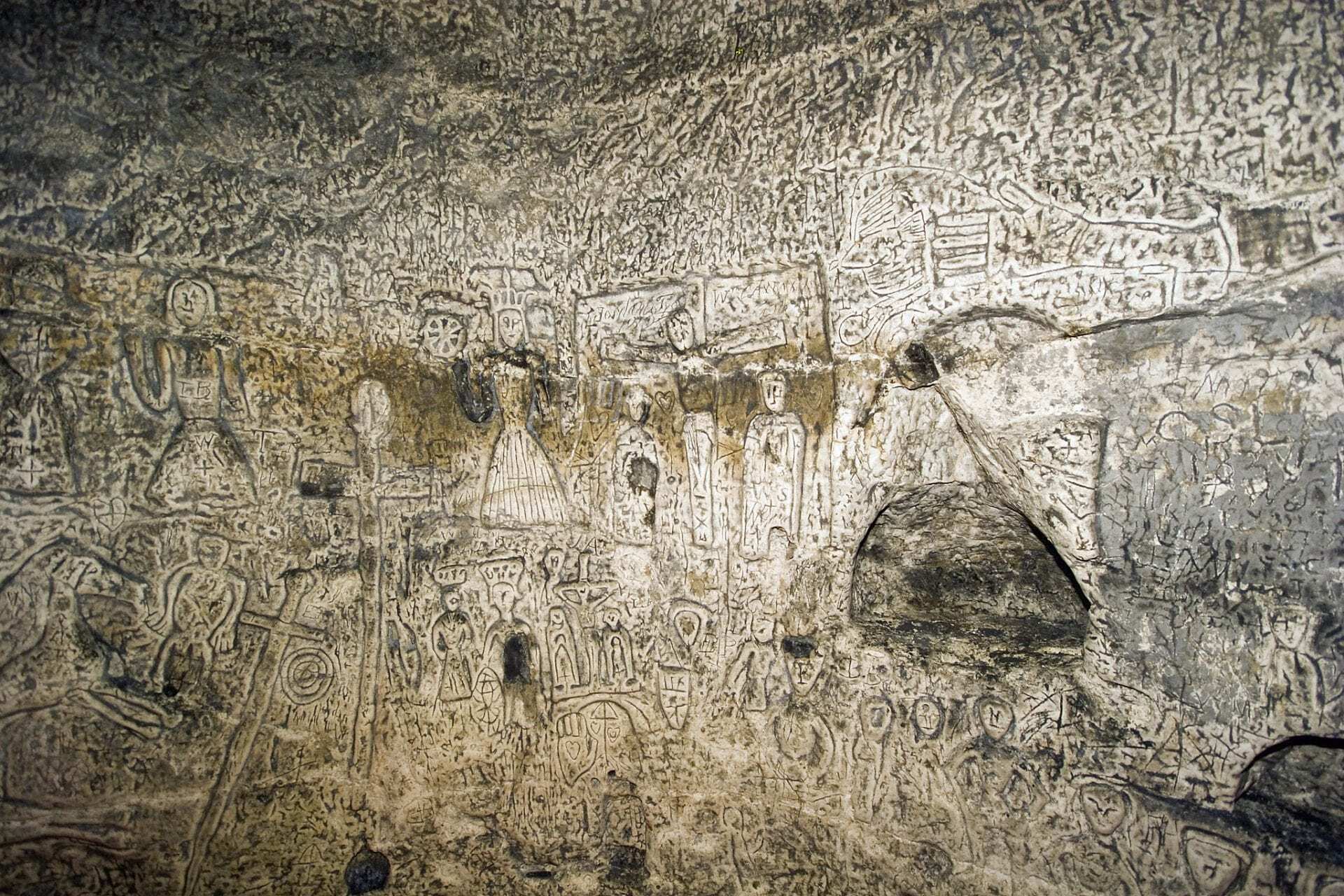 Less prosaic theories propose a Saxon way-side hermitage, a flint mine, or simply a storehouse for Augustinian monks from the local priory.
The cave was rediscovered in 1742, when workman uncovered a buried millstone concealing a vertical, well-like shaft. The cave cavity was mostly filled with material and was excavated with the expectation of finding treasure.
Contemporary accounts note the discovery of some pottery (possibly medieval), a human skull, bones, and a piece of brass (of which the whereabouts of the dateable finds are unknown), and the removal of the infill has meant that any dateable archaeological material survives to give some insight into the origins of Royston Cave.
Header Image Credit : Bill Hails – CC BY-ND 2.0