Nan Madol is an archaeological site and former capital of the Saudeleur Dynasty, located on Temwen Island off the shores of the island of Pohnpei, in the modern-day Federated States of Micronesia.
The earliest settlers to mainland Pohnpei are believed to be the Lapita culture, a Pacific Ocean people who flourished in the Pacific Islands. The earliest archaeological evidence of habitation dates from around AD 1 although radiocarbon dating only shows human activity starting around AD 80–200.
According to local myth, the Saudeleur Dynasty started with the arrival of two sorcerers from the land of Western Katau. The sorcerers could levitate huge stones with the aid of a flying dragon and built an altar at Nan Madol to worship Nahnisohn Sahpw, the god of agriculture. One of the sorcerers married a native and sired a dynasty of Saudeleur rulers of the Dipwilap ("Great") clan that would rule Pohnpei from their capital at Nan Madol.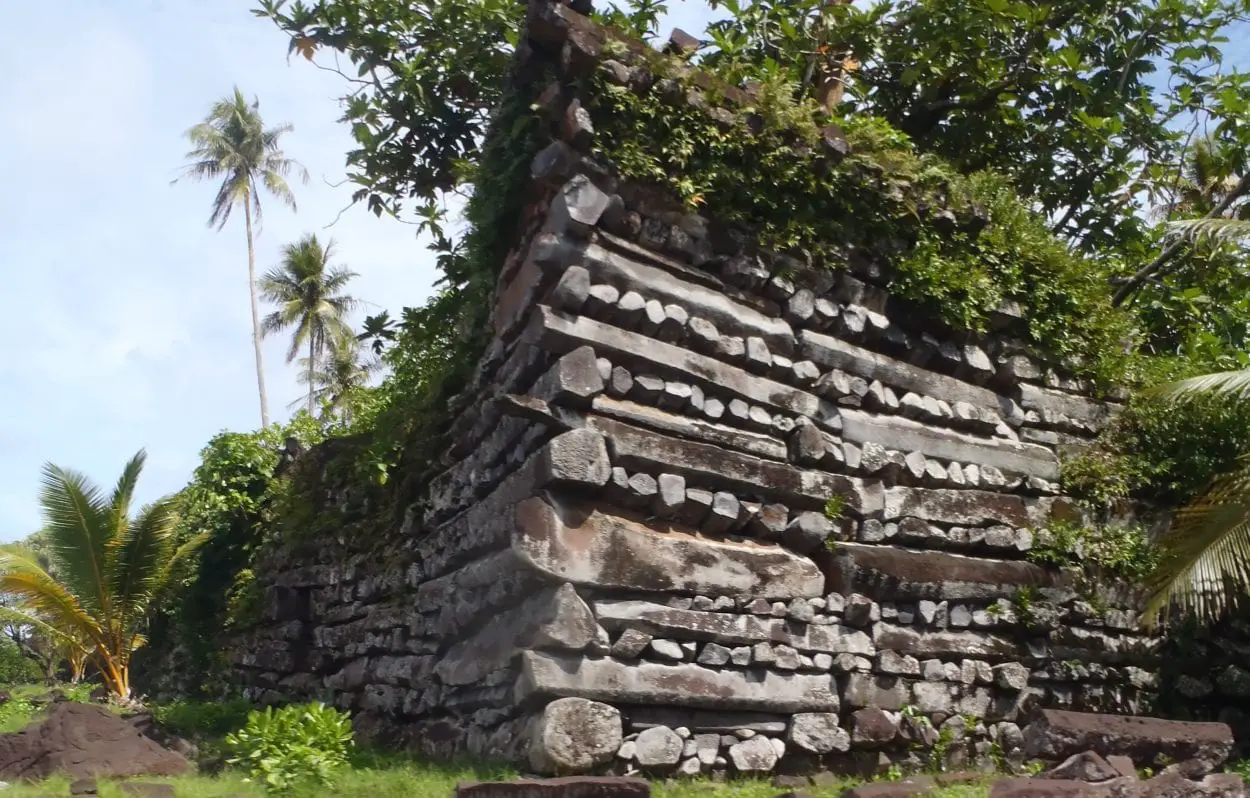 The city was constructed sometime between AD 1200 – 1500 with a distinctive megalithic architecture that used pieces of a columnar basalt quarried from a volcanic plug on the opposite side of Pohnpei.
The site consists of a series of artificial islets on a coral reef flat, linked by a network of canals that covers an area of 4416 acres. Archaeologists have determined the remains of high-status dwellings, possibly used by island chiefs, ceremonial sites, mortuary structures, and various domestic sites erected on raised platforms.
Nan Madol was the ceremonial centre of the dynasty, but also served the Saudeleur to control the populous by requiring other high-status nobles and potential rivals to live in the city rather than govern from their own home districts.
The city thrived until AD 1628, when Isokelekel, a semi-mythical hero warrior from the island of Kosrae conquered the Saudeleur Dynasty and established the Nahnmwarki Era.
The Nahnmwarki continued to live at Nan Madol but eventually abandoned the city possibly due to the lack of fresh water on the islets.
Modern chiefs of Pohnpei trace their lineage to Isokelekel, and according to this legend, modern Pohnpeians are descendants of Isokelekel's invasion that overthrew the Saudeleur who ruled with oppression.
Header Image Credit : maloff – Shutterstock