Trimontium is Roman fort complex located in Newstead on the Scottish Borders.
The fort is a complex archaeological site, with excavations by archaeologists revealing many phases of construction, with periods of expansion and reduction depending on the necessary requirements of the Roman army at the time.
Studies suggest that four consecutive forts were built at Trimontium, accompanied on all four sides by various partially over-lapping enclosures and defensive ditches. Adjacent to the fort was a vicus, estimated to comprise of up to 100 buildings that form the largest vicus of any fort in Scotland.
After the Roman conquest of Britannia, the Romans looked to establish a new province in the tribal lands of Caledonia (present-day Scotland). Caledonia was inhabited by several ancient tribes, most notably the Caledonii, Vacomagi, Cornavii, Taexali, Creones, Venicones, Epidii, Lugi, Smertae and the Damnonii, that the Romans nicknamed "Brittunculi" meaning "nasty little Britons".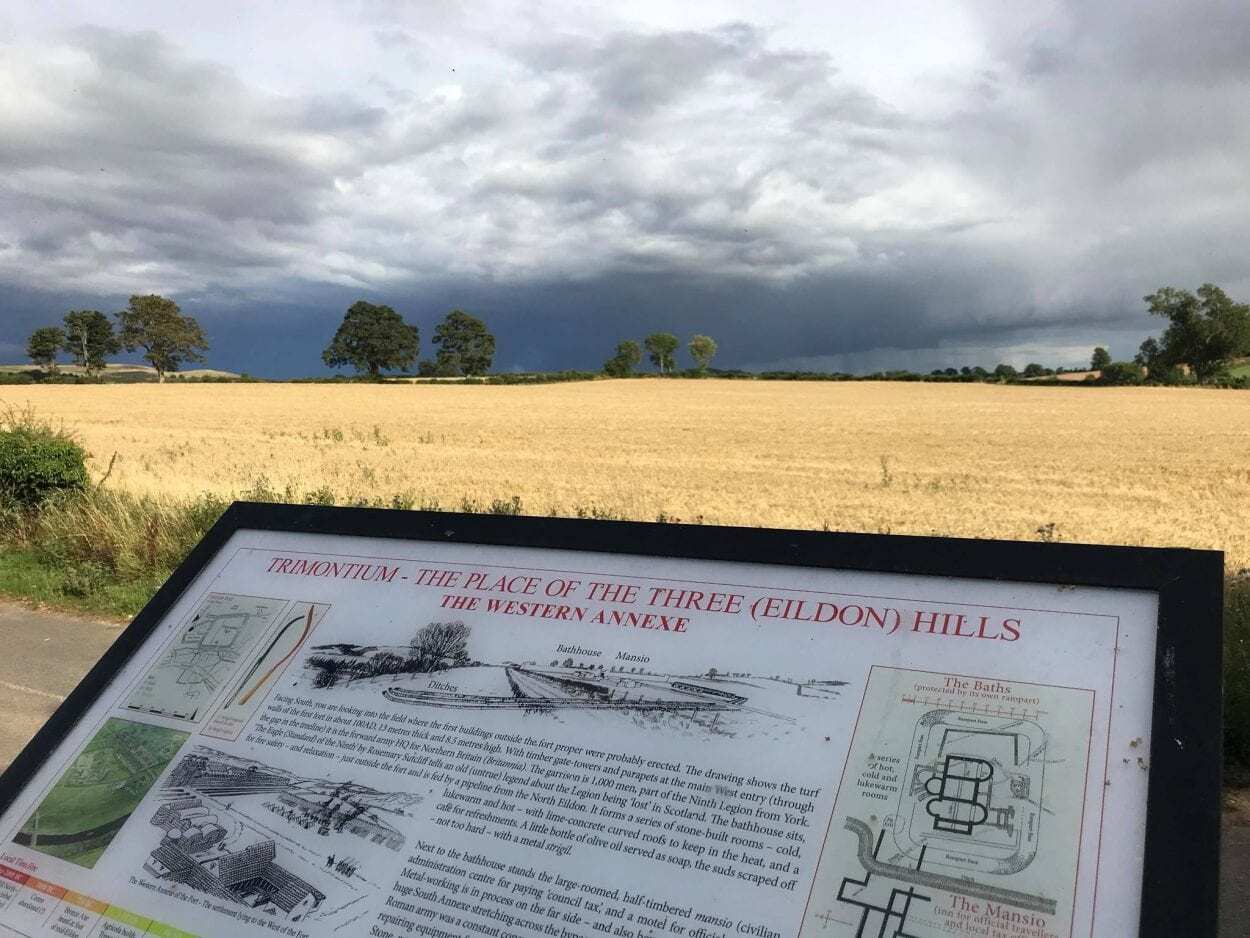 Incursions into central and northern Caledonia established chains of fortifications between 70-80 AD and exploratory marching camps encircling the Fife, Angus, Tayside, Crampians, and stretching as far north as the Moray Firth (next to the modern city of Inverness).
An Agricolan fort was established on the banks of the River Tweed at the 'place of the three hills', or 'Trimontium' in Latin. The first phase of construction was completed around AD 80, consisting of a clay rampart with two ditches, covering an area of 10 acres.
It is likely that Rome had intended to continue campaigning and expand the borders of Britannia from coast to coast, but Rome necessitated a troop withdrawal due to instability in other parts of the Empire. This retreat mirrored the fortunes of Trimontium and it was first abandoned sometime between AD 105 – 137.
During the reign of Emperor Antoninus Pius, the Romans carried out another successful military campaign in southern Scotland, and Trimontium was re-occupied with a garrison.
Antoninus ordered the construction of a wall, the Vallum Antonini (now called the Antonine Wall) along the Firth of Forth and the Firth of Clyde (west of Edinburgh along the central belt of Scotland) moving the frontier 40 miles further north of Trimontium. This placed the fort in a support role as a centre for distributing supplies and managing logistics.
By around AD 165, the Antonine Wall was abandoned and Trimontium was yet again a front-line fort. This precarious position left the fort exposed and the Romans moved the border back to Hadrian's Wall, finally abandoning Trimontium sometime around AD 180.
Find out more about Trimontium on the Trimontium Museum Trust website.