In 2019, archaeologists announced the discovery of a Viking ship grave on Edøy Island, Norway that made national headlines.
Research by the Norsk institutt for kulturminneforskning had revealed traces of a major settlement from the Merovingian or Viking Period, along with a 16-17 metre long ship that dated from more than 1000 years ago.
After further georadar surveys, the team has now discovered a Viking boat burial as well as the remains of several houses and mounds.
A ship burial or boat grave is a burial used among Germanic peoples, particularly by Viking Age Norsemen in which a ship or boat is used either as a container for the dead and the grave goods, or as a part of the grave goods itself. If the ship is relatively small, it is often called a boat grave or boat burial.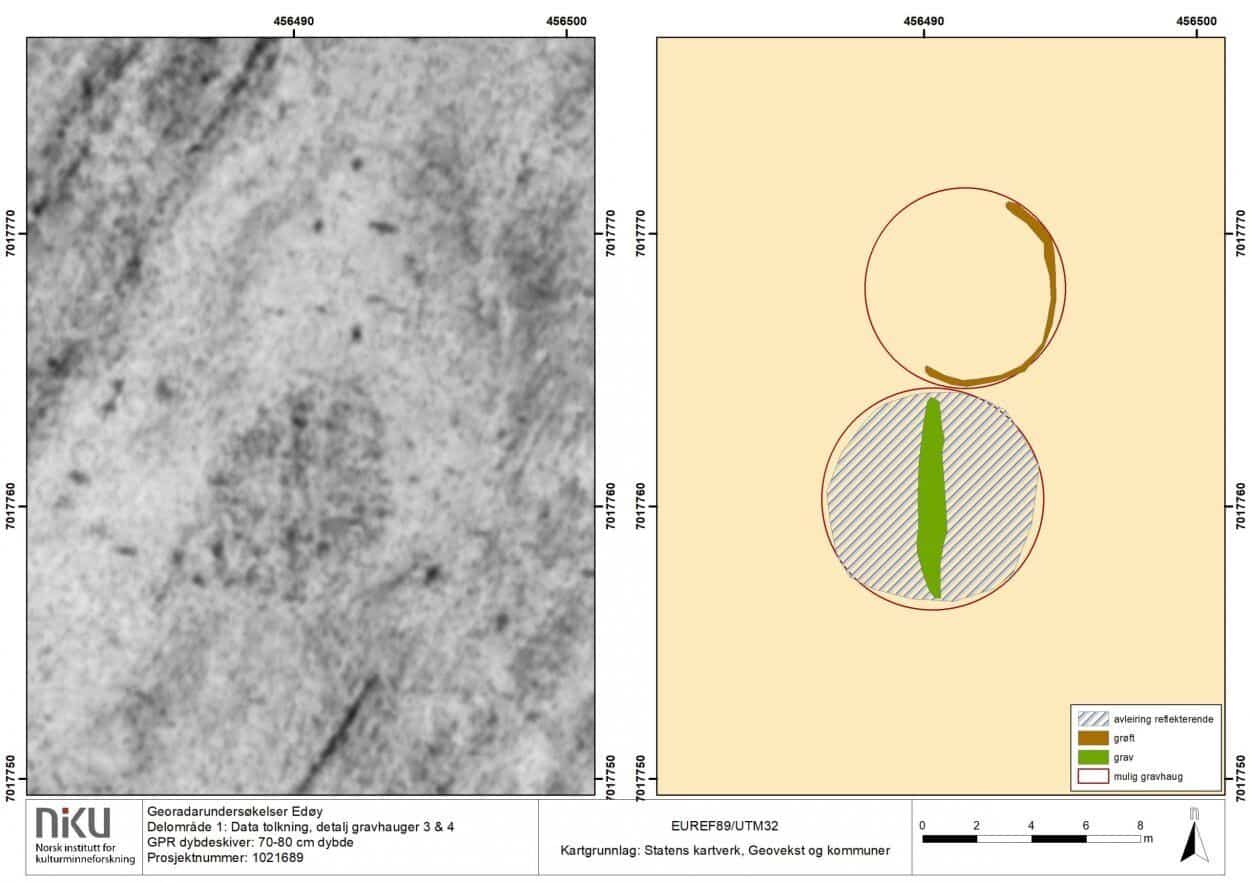 Manuel Gabler from the Norwegian Institute for Cultural Heritage Research (NIKU) said: "In the process of interpreting the data, we discovered a clear circular and reflective structure. In the middle of that structure we see a 7.3 metre long and approximately 1 meter wide anomaly. We interpret it as a boat tomb under a round stone cairn."
North of the latest boat discovery are two circular anomalies that may be the remains of more boat burials, but these sites lack a boat structure which archaeologists suggest may be the result of damage caused by agriculture and ploughing. Several more semi-circular anomalies have also been identified.
The team also discovered traces of grave tombs and rectangular houses with a large reflective anomaly, which may be the remains of a floor or hearth.
The County conservator Bjørn Ringstad said: "The houses that have been traced may well be from the older Iron Age, circa 300-600 AD. The tombs may be from the younger Iron Age, circa 600-900 AD. The findings nevertheless show that there was a close connection between the residences and the burial ground at Edøy."
Header Image Credit : Svein Junge. Illustration, Manuel Gabler, NIKU