Bronze Age graves have been unearthed ahead of planned road construction in Melhus municipality in mid-Norway. These are some of the oldest burial sites ever discovered in the region.
Bronze Age graves are rare in Norway. Now 3000-year-old graves in good condition have been discovered in Trøndelag county.
Archaeologists from the Norwegian University of Science and Technology's (NTNU) University Museum made the gravesite discovery at Sandbrauta in Melhus municipality. They're working on the site in connection with the planned construction of the new E6 highway between the towns of Melhus and Ulsberg.
"We don't often make a find like this," says Project Manager Merete Moe Henriksen at the NTNU University Museum.
Numerous graves
Three smaller stone chambers typical of the period lie to the side of a larger stone ring. The stone ring is part of a burial mound that contains numerous graves.
Local conditions have preserved the site remarkably well. Up to two metres of clay from a landslide covered the area. This mass of earth provides traces of a mudslide that may have taken place already in prehistoric times, perhaps just after people were laid in the graves.
Landowner had no clue
The clay settled like a lid over the graves, sealing the site and keeping it in good condition. This is a good farmland, but the ploughing activity hasn't gone deep enough to disturb anything.
That 3000-year-old objects could be buried in his fields came as a big surprise to landower Oddvar Narve Langørgen. "I had no clue that anything like this was here. I couldn't have dreamt it up, either," he said.
Langørgen says there is good topsoil in the area, which might have offered good growing conditions for people who might have lived here at that time.
Found bones and charcoal
According to the museum, the find represents an invaluable source of knowledge of the Bronze Age's burial traditions in central Norway.
"We found charcoal and burned bones in the graves," says project manager Henriksen.
The custom seems to have been to burn the dead before they were laid in the graves. The remains may have been placed in some material that decomposed over the course of the 3000 years.
Archaeologists have known that there could be exciting discoveries here since 2014, when they conducted a pre-roadwork investigation in conjunction with the county's cultural heritage council. They found signs of human activity from earlier times.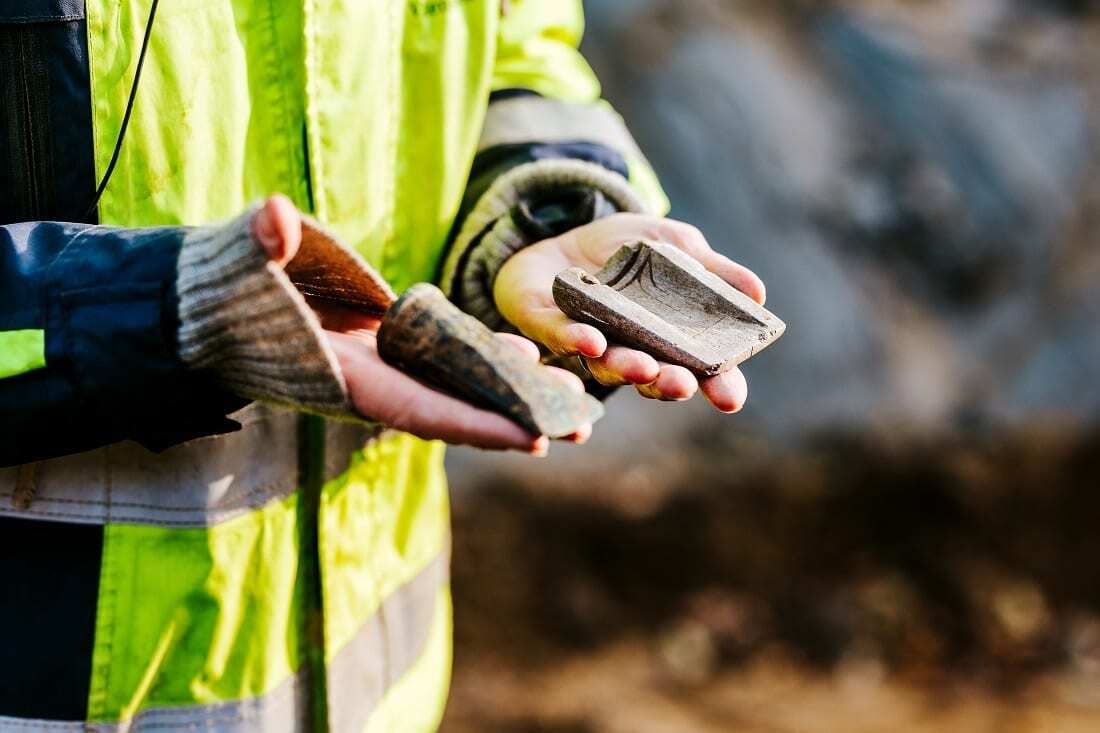 Site mapping
"It's incredibly exciting," said Anne-Lise Bratsberg, who is an advisor and project manager for Nye Veier AS (New Roads Ltd), which is responsible for planning, construction, operation and maintenance of major highways in Norway.
She says she feels awestruck by the find of graves that no one has seen in 3000 years.
Museum Director Reidar Andersen praises Nye Veier and commends the cooperation between the builders and the museum. Andersen hopes that some of the discoveries from the site will be exhibited at a later date. He believes the potential is great for an exhibit.
However, the area will become inexorably changed with the planned roadwork.
"Archaeology is a destructive science, after all. We have to dig to make discoveries," Hanne Bryn says. She is the field leader for the excavations at Sandbrauta.
The way Bryn sees it is that no one has known about this place for the past 3000 years. Now they can at least map a site that contains valuable scientific finds.
Exciting rock slab
Close to the big burial mound, the museum found part of a rock slab with indented figures, shaped like bowl depressions and a foot. These are motifs that have been found on other rock carvings from this time, but the foot figure is distinct because, unlike most others, it is portrayed with toes rather than as a foot with a shoe on.
The archaeologists believe that the slab may have been part of a burial chamber in the mound.
So far, no finds have been made that would confirm the presence of a settlement at the site. Postholes could indicate this, but might also have been part of a structure connected to the graveyard.
Casting moulds
A casting mould for bronze axe heads was found on the same site. The mould might have been deposited as grave goods, but might also show that casting of bronze objects took place in the region.
The mould may have been used to cast axe heads of the same type as were discovered at Hegra in Stjørdal municipality earlier this year. It's conceivable that contact between Stjørdal and Melhus – 40 kilometres apart as the crow flies – might have existed in prehistoric times.
Both the carvings on the rock and on the mould suggest that the gravesite was probably used in the Late Nordic Bronze Age, between 1100 and 500 BCE.
This dating makes it the oldest burial site discovered to date in Melhus municipality, and also one of the oldest in central Norway. Several other interesting finds have been made nearby.
The information from the dig, combined with previous finds, allows archaeologists to form a picture of a region where people lived, worked and died over a long period of time.
The Norwegian University of Science and Technology (NTNU)
Header Image: Three smaller stone chambers typical of this period that were used to bury people. Photo: Julie Gloppe Solem, NTNU
Download the HeritageDaily mobile application on iOS and Android
---
Planet Knowledge is a FREE to watch video on demand channel available on Freeview HD (Channel 265), Youview, Samsung connected TV's, selected smart tv's, tablets and smartphones using Android or iOS.