A long barrow is a prehistoric monument dating to the early Neolithic period. They are rectangular or trapezoidal tumuli or earth mounds traditionally interpreted as collective tombs.
1 : West Kennet Long Barrow
The West Kennet Long Barrow is a Neolithic tomb or barrow, situated on a prominent chalk ridge, near Silbury Hill, one-and-a-half miles south of Avebury in Wiltshire, England. The site was recorded by John Aubrey in the 17th century and by William Stukeley in the 18th century.
Archaeologists classify it as a chambered long barrow and one of the Severn-Cotswold tombs. It has two pairs of opposing transept chambers and a single terminal chamber used for burial. The stone burial chambers are located at one end of one of the longest barrows in Britain at 100 m: in total it is estimated that 15,700 manhours were expended in its construction. The entrance consists of a concave forecourt with a facade made from large slabs of sarsen stones which were placed to seal entry.
The construction of the West Kennet Long Barrow commenced about 3600 BC, which is some 400 years before the first stage of Stonehenge, and it was in use until around 2500 BC. The mound has been damaged by indiscriminate digging, but archaeological excavations in 1859 and 1955-56 found at least 46 burials, ranging from babies to elderly persons. The bones were disarticulated with some of the skulls and long bones missing. It has been suggested that the bones were removed periodically for display or transported elsewhere with the blocking facade being removed and replaced each time. Recent re-analysis of the dating evidence suggests that the 46 people all died within 20 – 30 years of each other, and that the tomb was open for 1,000 years.
2 : Wayland's Smithy
Wayland's Smithy is a Neolithic long barrow and chamber tomb site located near the Uffington White Horse and Uffington Castle, at Ashbury in the English county of Oxfordshire (historically in Berkshire). It is situated very near to The Ridgeway, an ancient road running along the Berkshire Downs.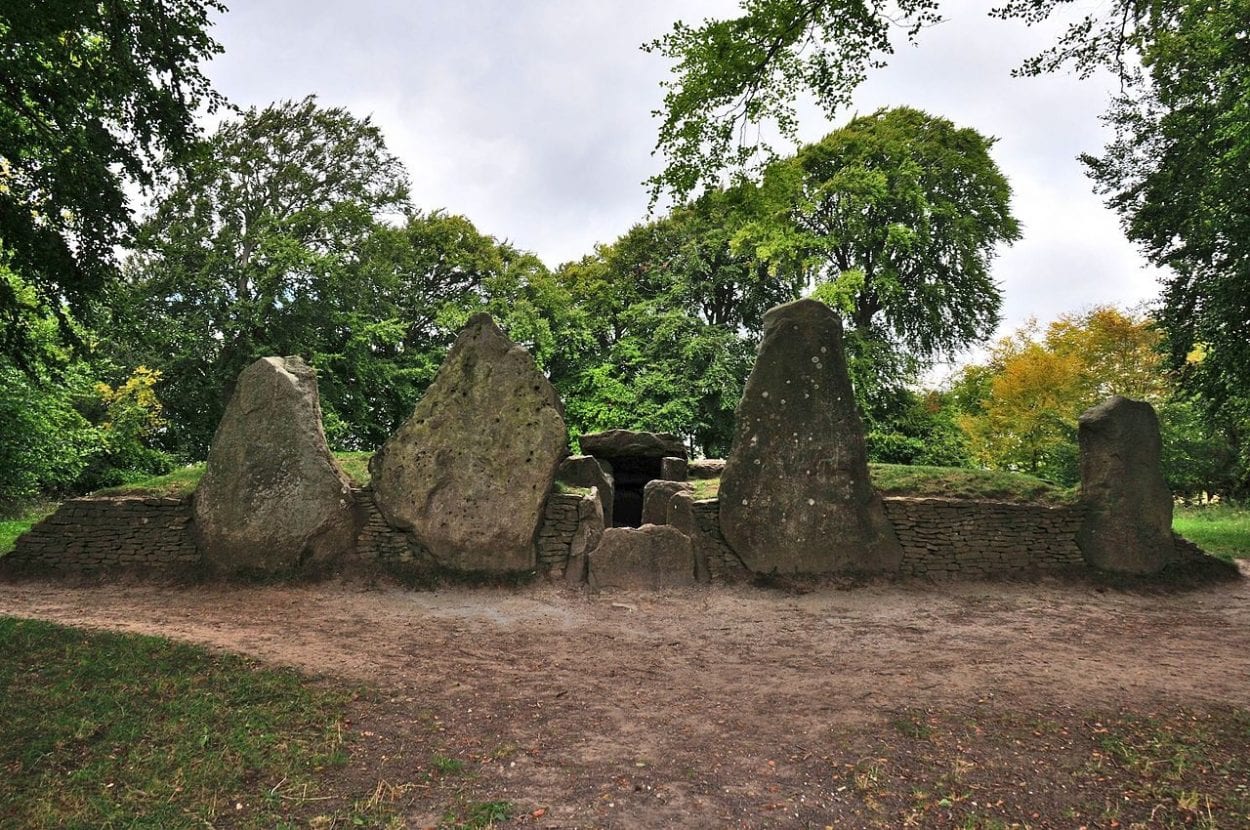 The later mound was 185 feet long and 43 feet wide at the south end. Its present appearance is the result of restoration following excavations undertaken by Stuart Piggott and Richard Atkinson in 1962-1963. They demonstrated that the site had been built in two different phases, a timber chambered oval barrow built around 3700 BC and the second stone chambered long barrow in around 3400 BC.
The wooden mortuary house mainly consisted of a paved stone floor with two large posts at either end. A single crouched burial had been placed at one end and the mostly disarticulated remains of a further 14 individuals were scattered in front of it. Analysis of these remains indicated that they had been subjected to excarnation prior to burial and deposited in possibly four different phases. Postholes at one end have been interpreted as supporting a timber facade. The whole monument was covered by an earth barrow with material excavated from two flanking ditches and measured around 20m in length.
The later stone tomb consists of two opposing transept chambers and terminal chamber, along with the longer entrance chamber, this gives the burial area a cruciform appearance in plan. It is classified by archaeologists as one of the Severn-Cotswold tombs. The large trapezoidal earth barrow erected over it was revetted with a stone kerb and its material was again excavated from two large flanking ditches. Excavation in 1919 revealed the burials of seven adults and one child.
The site is important as it illustrates the transition from timber chambered barrows to stone chamber tombs over a period which may have been as short as 50 years.
3 : The Coldrum Long Barrow
The Coldrum Long Barrow, also known as the Coldrum Stones, are the remains of a chambered long barrow located near to the village of Trottiscliffe in the English county of Kent. Constructed in circa 4000 BC, during the Early Neolithic period of British prehistory, the Stones represent a part of an architectural tradition that was spread across Western Europe during this era.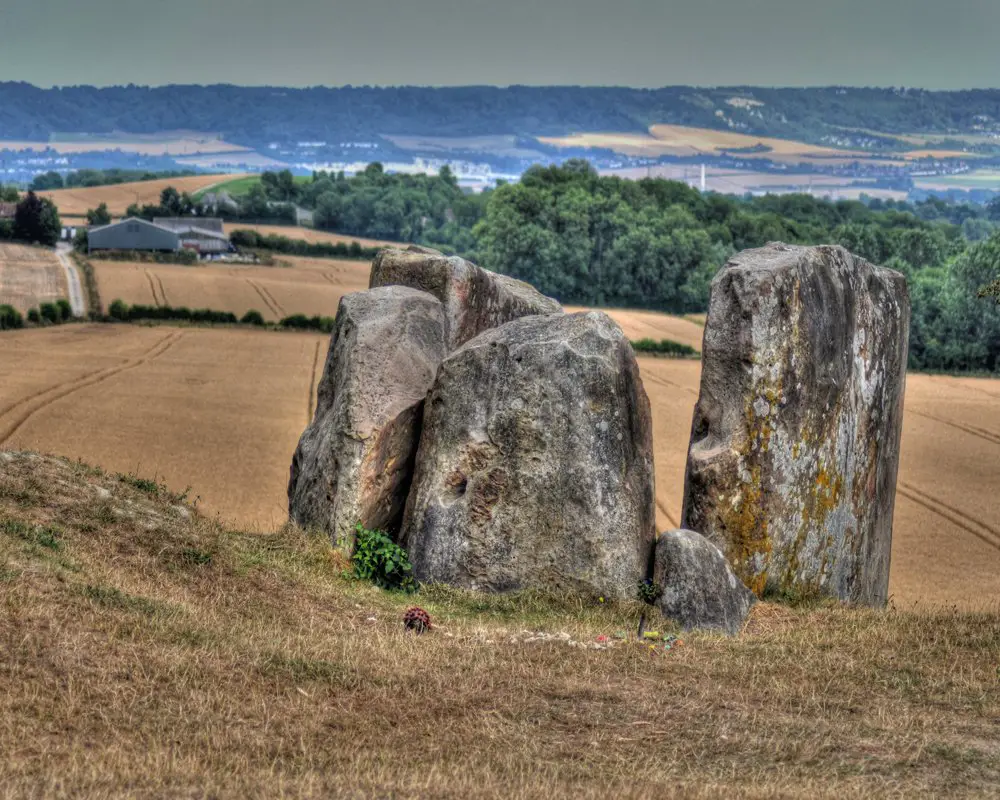 One of the Medway megaliths constructed in the vicinity of the River Medway, the Coldrum Stones are located close to five other surviving chambered long barrows: Addington long barrow, Chestnuts long barrow, Kit's Coty House, the Countless Stones and Coffin Stone. Of these, the Coldrum Stones are in the best surviving condition, and are furthermore considered to be the best preserved of all the megalithic tombs in Kent.

Built out of about 50 megaliths as a tomb to house the remains of the dead, the Coldrums have been interpreted by archaeologists as representing a ritual site used by Early Neolithic peoples as a part of an ancestor cult. The remains of 20 human skeletons have been unearthed from within the tomb, one of whom notably shows evidence of having suffered a violent death.
Millennia after it was abandoned as a tomb, it became heavily dilapidated, with the stones falling over and the chamber collapsing, while local folklore grew up around the site. The ruin attracted the interest of antiquarians in the 19th century, while archaeologists have excavated at the site on various occasions, also being responsible for a partial reconstruction.
4 : Belas Knap
Belas Knap is a neolithic chambered long barrow, situated on Cleeve Hill, near Cheltenham and Winchcombe, in Gloucestershire, England. It is a scheduled ancient monument in the care of English Heritage but managed by Gloucestershire County Council. "Belas" is possibly derived from the Latin word bellus, 'beautiful', which could describe the hill or its view. "Knap" is derived from the Old English for the top, crest, or summit of a hill.
It is a type of monument known as the Cotswold Severn Cairn, all of which have a similar trapezoid shape, and are found scattered along the River Severn. Belas Knap is described in the English Heritage designation listing statement as an "outstanding example representing a group of long barrows commonly referred to as the Cotswold-Severn group". The barrow is about 178 feet (54 m) long, about 60 feet (18 m) wide and nearly 14 feet (4.3 m) in height.
5 : Stoney Littleton Long Barrow
The Stoney Littleton Long Barrow (also known as Bath Tumulus and the Wellow Tumulus) is a Neolithic chambered tomb with multiple burial chambers, located near the village of Wellow, Somerset. It is an example of the Severn-Cotswold tomb.

The barrow is about 30 metres (98 ft) in length and 15 metres (49 ft) wide at the south-east end, it stands nearly 3 metres (10 ft) high. Internally it consists of a 12.8 metres (42 ft) long gallery with three pairs of side chambers and an end chamber. There is a fossil ammonite decorating the left-hand door jamb.
The site was excavated by John Skinner in 1816-17 who gained the entry through a hole originally made about 1760. The excavation revealed the bones (some burned) of several individuals.
6 : Nympsfield Long Barrow
Nympsfeld Long Barrow is the remains of a Neolithic burial site or barrow, located close to the village of Nympsfield in Gloucestershire, South West England. It lies at the edge of a woods, and is now the location of a picnic site. It is one of the earliest examples of a barrow with separate chambers. It was constructed around 2800 BCE.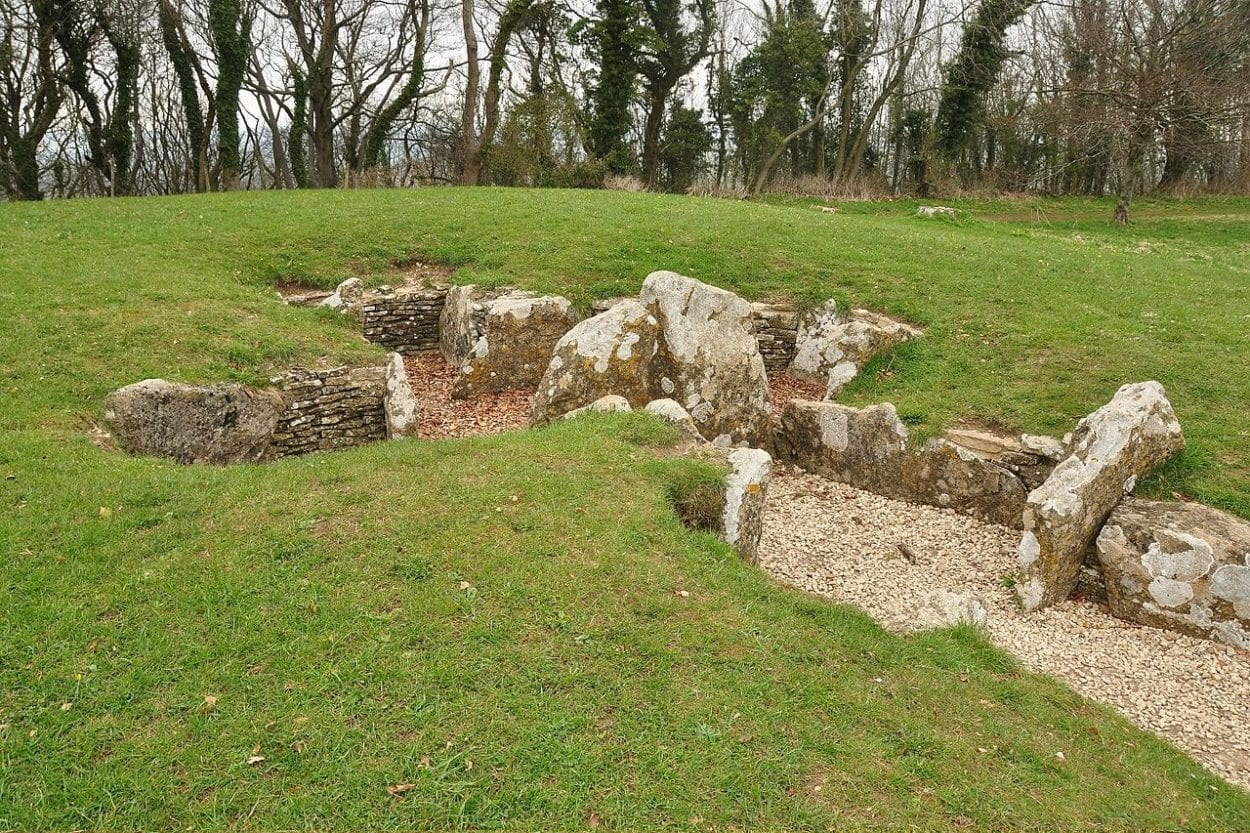 The barrow is 27 by 18 metres in size and overall trapezoidal in shape. There is evidence of curving walls behind the east entrance, which leads into a square forecourt area, opening onto a central passage. Three chambers lead off this passage, two larger chambers to either side and one small one to the end, divided off by constricting stones to restrict access. A small part of the north chamber was separated off to form a cist. The long axis of the barrow is orientated in a southeast to northwest direction.

7 : Uley Long Barrow
Uley Long Barrow, also known locally as Hetty Pegler's Tump, is a Neolithic burial mound, near the village of Uley,Gloucestershire, England. Although typically described as a long barrow, the mound is actually a transepted gallery grave. It was probably built before 3000 BC.
It measures about 37-metre (121 ft) long, 34-metre (112 ft) metres wide, and has a maximum height of 3 metres (9.8 ft).
The barrow was archaeologically excavated in 1821, revealing the remains of 15 skeletons and a later, intrusive Roman age burial above the northeast chamber. It was excavated again in 1854.