Dr. Sarah Parcak, a space archaeologist has officially launched the GlobalXplorer: a citizen science and archaeology platform that's enlisting people around the world to discover sites unknown to modern archaeologists.
Dr. Parcak is the 2016 TED Prize winner, a National Geographic Fellow and professor at the University of Alabama at Birmingham. GlobalXplorer is the result of Dr. Parcak's TED Prize, which is granted each year to one exceptional individual, offering them $1 million and the resources of the TED community to create a world-changing project. Dr. Parcak wanted anyone with an Internet connection to "discover and protect the millions of unknown archaeological sites across the globe."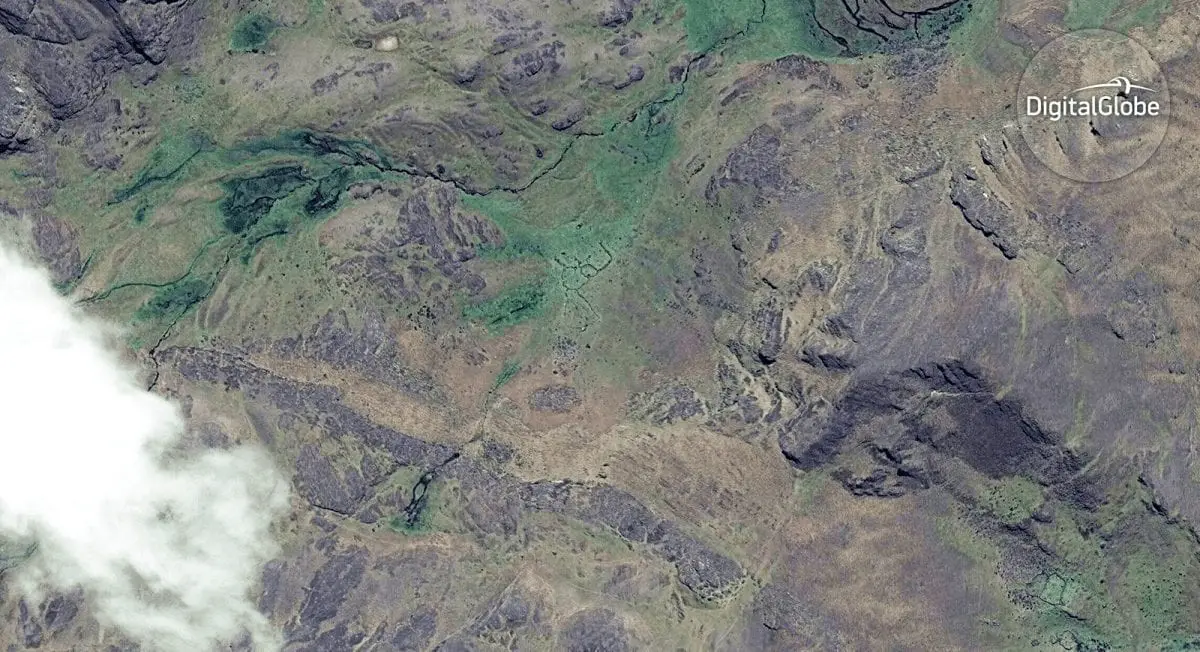 GlobalXplorer was built in collaboration with the TED Prize, National Geographic, satellite imagery and analytics firm DigitalGlobe, Inc. (NYSE: DGI), and platform developer Mondo Robot. While GlobalXplorer has ambitions to span the globe, it is launching in Peru, where Sustainable Preservation Initiative (SPI) will serve as the on-the-ground partner.
"The world's hidden heritage contains clues to humankind's collective resilience and creativity," explained Dr. Parcak. "It's up to all of us to protect this heritage, and with GlobalXplorer we are empowering a 21st century army of global explorers to discover and protect our shared history."
GlobalXplorer offers gamified , and users are rewarded for their valuable time. After signing in and taking a tutorial, users begin examining satellite images. The longer they spend on the site, the more rewards they collect: from rich content about Peru, to secret behind-the-scenes sneak peeks, to actual leveling up. Eventually, users have the opportunity to join archaeologists (virtually) for on-the-ground digs.
"Every year, we have the honor of working with one inspiring individual to create and execute a brilliant, impactful idea," said Anna Verghese, TED Prize director. "Dr. Parcak's wish has put the tools in everyone's hands to discover and protect humanity's rich history, effectively opening up a traditionally closed discipline. Now our stories are safeguarded by millions rather than just a handful."
Preventing looters from finding new historical sites was central to building the GlobalXplorer platform. The high-resolution satellite images are broken into tens of millions of small tiles and displayed to users in a random order without the ability to navigate or pan out. The tiles do not contain any location reference or coordinate information.
DigitalGlobe, the global leader in earth imagery and information about our changing planet, is providing more than 200,000 km2 of satellite imagery of Peru and a customized version of its online crowdsourcing tool, Tomnod, for GlobalXplorer. DigitalGlobe's Geospatial Big Data platform, GBDX, is the engine of this project, handling the image ordering, processing, custom tiling, and data hosting necessary to achieve the desired scale and objectives of the project.
"DigitalGlobe is thrilled to expand our partnership with Dr. Parcak and provide the tools that citizen scientists around the world will use to discover sites not yet known to modern archaeologists," said Caitlyn Milton, DigitalGlobe Customer Success Manager. "By combining high-resolution satellite imagery and crowdsourcing, GlobalXplorer will empower archaeologists to make decisions with confidence, and in doing so, preserve relics of our shared human story."
National Geographic is providing archaeological expertise and rich content while supporting GlobalXplorer with complementary educational resources. SPI empowers people, the majority being women, in communities near archaeological sites and is working with GlobalXplorer in Peru to preserve and protect the archeological sites identified by the platform.
"Dr. Sarah Parcak's work exemplifies National Geographic's commitment to furthering exploration and inspiring people to generate solutions for the greater good," said Alexander Moen, vice president of Explorer Programs at the National Geographic Society. "By supporting the launch of GlobalXplorer and Dr. Parcak's wish, we're helping to educate the next generation about the importance of archaeological sites and, by giving them the opportunity to participate directly in this exciting exploration project, we are connecting them to our shared cultural heritage."
Dr. Larry Coben, founder and Executive Director of SPI, says, "We are thrilled to be Sarah and GlobalXplorer's partner. As soon as they see new or destroyed sites from space, we will be there on the ground to investigate and protect them. We will also empower and train the communities around those sites so that they can benefit economically from their heritage without looting and destroying it."
GlobalXplorer plans to launch in its next country later this year.
About the TED Prize
The first TED Prize was awarded in 2005, born out of the TED Conference and a vision by the world's leading entrepreneurs, innovators, and entertainers to launch a global project that marries the recipient's "wish" with TED's global community. The original prize: $100,000 and the TED community's range of talent and expertise. What began as an unparalleled experiment to leverage the resources of the TED community has evolved into a $1 million award and an ambitious effort to spur global-scale change.
From Bono's the ONE Campaign ('05 recipient) to Jamie Oliver 's Food Revolution ('10) to JR's Inside Out Project ('11), Sugata Mitra's School in a Cloud ('13), Charmian Gooch's call to eliminate anonymous corporations ('14), and StoryCorps Founder Dave Isay's ('15) wish to take the platform global, the TED Prize has helped to combat poverty, take on religious intolerance, improve global health, tackle child obesity, advance education, and inspire art around the world.
About the National Geographic Society
The National Geographic Society is a leading nonprofit that invests in bold people and transformative ideas in the fields of exploration, scientific research, storytelling and education. We support educators to ensure that the next generation is armed with geographic knowledge and global understanding. We aspire to create a community of change, advancing key insights about our planet and probing some of the most pressing scientific questions of our time. Our goal is measurable impact: furthering exploration and educating people around the world to inspire solutions for the greater good. For more information, visit www.nationalgeographic.org.
About About DigitalGlobe
DigitalGlobe is a leading provider of commercial high-resolution earth observation and advanced geospatial solutions that help decision makers better understand our changing planet in order to save lives, resources and time. Sourced from the world's leading constellation, our imagery solutions deliver unmatched coverage and capacity to meet our customers' most demanding mission requirements. Each day customers in defense and intelligence, public safety, civil agencies, map making and analysis, environmental monitoring, oil and gas exploration, infrastructure management, navigation technology, and providers of location-based services depend on DigitalGlobe data, information, technology and expertise to gain actionable insight.
About SPI
Sustainable Preservation Initiative (SPI) preserves archaeological sites by building futures and saving pasts. Many of humanity's most important heritage sites coexist with some of the world's poorest people. SPI trains locals – mostly women – in essential business, design and marketing skills, and provides capacity building and funding for existing or start-up businesses related to local heritage. SPI presently has ten projects around the world, the five oldest of which are fully self-sustaining and profitable.
A complete FAQ on GlobalXplorer is available here.