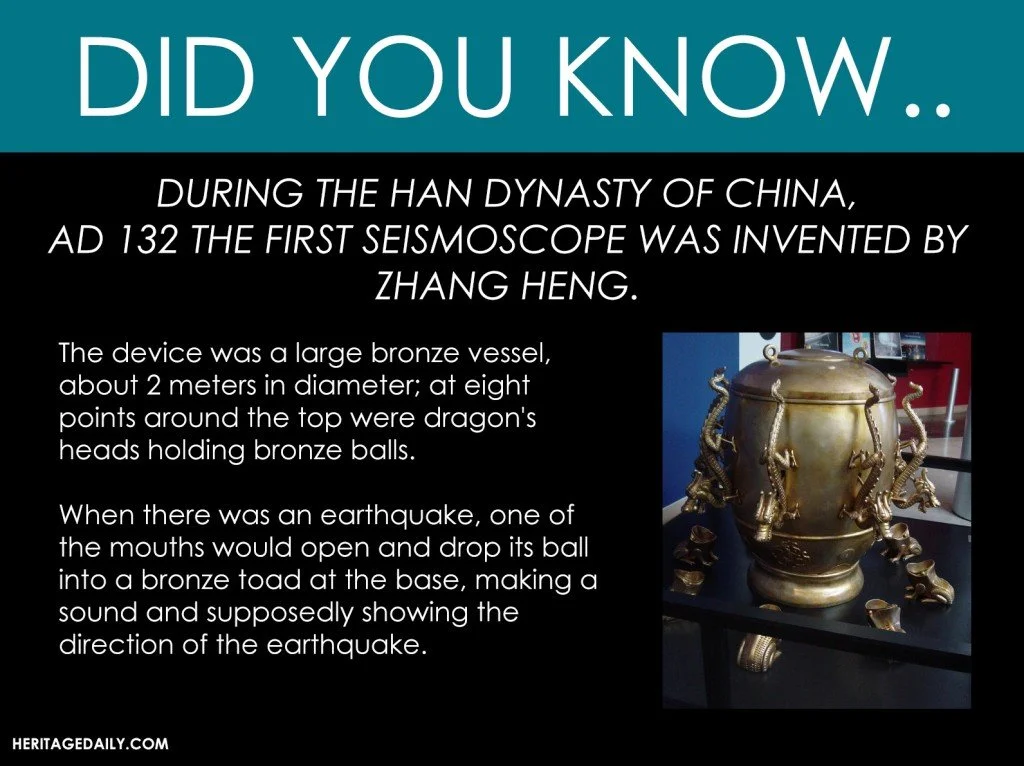 In AD 132, Zhang Heng of China's Han dynasty invented the first seismoscope (by the definition above), which was called Houfeng Didong Yi (literally, "instrument for measuring the seasonal winds and the movements of the Earth"). The description we have, from the History of the Later Han Dynasty, says that it was a large bronze vessel, about 2 meters in diameter; at eight points around the top were dragon's heads holding bronze balls. When there was an earthquake, one of the mouths would open and drop its ball into a bronze toad at the base, making a sound and supposedly showing the direction of the earthquake.
On at least one occasion, probably at the time of a large earthquake in Gansu in AD 143, the seismoscope indicated an earthquake even though one was not felt. The available text says that inside the vessel was a central column that could move along eight tracks; this is thought to refer to a pendulum, though it is not known exactly how this was linked to a mechanism that would open only one dragon's mouth. The first ever earthquake recorded by this seismograph was supposedly somewhere in the east. Days later, a rider from the east reported this earthquake.
Contributing Source : Click Here
Download the HeritageDaily mobile application on iOS and Android
Planet Knowledge is a FREE to watch video on demand channel available on Freeview HD (Channel 265), Youview, Samsung connected TV's, selected smart tv's, tablets and smartphones using Android or iOS.