Moneen Mountain : Wiki Commons
A rare hammerhead, believed to have been fashioned from the antler of a red deer stag thousands of years ago, has been discovered in a cave in the Burren by a team of archaeologists led by IT Sligo lecturer Dr Marion Dowd.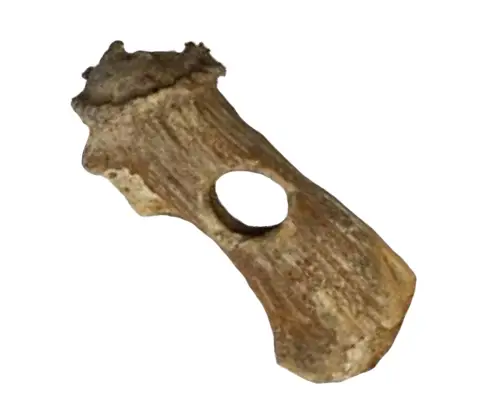 The hammerhead, possibly the only one of its kind found in Ireland  is likely to be prehistoric. Radiocarbon dating will be carried out to confirm this, according to Dr Dowd, a lecturer in prehistoric archaeology at the Institute.
She and her team also found shards of pottery from six Bronze-Age pots which were placed in the small cave on top of Moneen Mountain, near Ballyvaughan, around 1,000 BC.
But the most poignant discovery was the skeletal remains  of a teenager, aged from 14 to 16 years old, which were found in a recess in the cave and which date  from the 16th or 17th century. "We don't know what sex the teenager was but DNA tests will tell us that," explained Dr Dowd. "What we do know is that there is evidence of stunted growth, possibly due to malnourishment".
Dr Dowd said this unexpected discovery, completely unrelated to the prehistoric artefacts which were placed in the cave thousands of years earlier, had struck a chord with people in the locality because of the human connection.
Dr Marion Dowd and her son, pictured at last year's Science Fair at the Institute / Photo: IT Sligo / All Rights Reserved
"The body was found in a little recess – it was not dumped," she explained. "This teenager may have crawled into the chamber and died. It was possibly somebody who had a difficult life. We read about warfare and pestilence during the 16th and 17th centuries but when you find somebody who lived during this period, and died in this place, it is very moving".
Dr Dowd, an expert in cave archaeology, was called in after cavers discovered the hammerhead and a skull in the small cave in June 2011.  The National Monuments Service inspected the site and commissioned and funded the archaeological excavation led by Dr. Dowd.
Though the Bronze Age pottery which was found is domestic in nature, it does not suggest that the cave was inhabited, the archaeologist believes.
While there was no evidence of people having lived in the cave, she stressed that it did not appear to have been a dump as many of the artefacts seem to have been carefully placed there. "We are still trying to work out why these objects would have been placed in a cave on top of a mountain. We will probably never know for sure," said Dr Dowd. "The hammerhead is very, very rare. It probably had a wooden handle attached so that it could be used as a hammer," said Dr Dowd.
HeritageDaily : Archaeology News : Archaeology Press Releases