A team of archaeologists have uncovered a collection of ornate Christian frescos during excavations in Old Dongola.
Old Dongola was the capital of the Nubian kingdom of Makuria, located in the Northern State of Sudan, on the eastern banks of the River Nile.
The Kingdom of Makuria emerged in the 5th century AD following the collapse of the Nubian Kingdom of Kush. Makuria reached its zenith between the 9th and 11th centuries AD, encompassing the territory stretching from the Third Cataract along the Nile River to below Abu Hamad, as well as certain regions of northern Kordofan.
The kingdom underwent a cultural and religious transformations known as "Nubization" to counter the increasing impact of Arabic within the Coptic Church. These reforms involved the adoption of the veneration of deceased rulers, bishops, and local Nubian saints.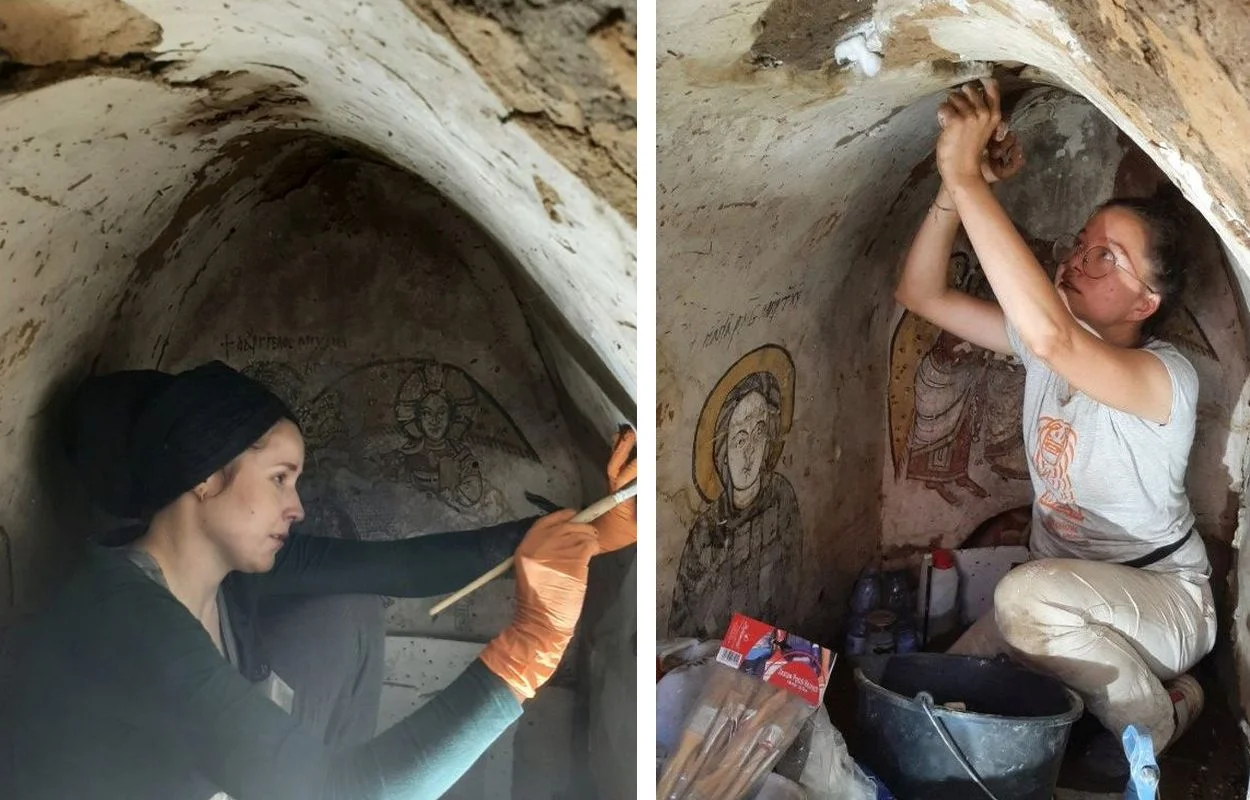 Archaeologists from the Centre of Mediterranean Archaeology, University of Warsaw, have been conducting a research project called "UMMA – Urban Metamorphosis of the community of a Medieval African capital city".
Excavations have revealed an underground chamber and a complex of vaulted and domed rooms constructed using mudbrick that date from between the 16th to 19th century AD during the period of the Funj Sultanate.
Several of the rooms are decorated with a collection of frescos showing Christian scenes with depictions of Christ, the archangel Michael, Mary, and representations of a Nubian ruler. Accompanying the artwork are inscriptions, one of which mentions King David several times and asks God to protect the city.
According to the archaeologists: "He was one of the last rulers of Christian Makuria, whose reign marks the beginning of the end of the kingdom. For unknown reasons, King David attacked Egypt, which invaded Nubia as part of a retaliatory action and Dongola was conquered for the first time in its history. Perhaps the painting was created when the Mamluk army was approaching the city or was besieging it."
The room housing the David inscriptions resembles a crypt and is located several metres about the medieval ground level. It is located adjacent to a large, monumental building, which the researchers believe was the Cathedral of Dongola called the Great Church of Jesus, mentioned in historical texts.
The unique paintings have been preserved by conservators under the direction of Magdalena Skarżyńska, MA. The conservation team operated as part of the cooperation between the Centre of Mediterranean Archaeology of the University of Warsaw and the Department of Conservation and Restoration of Works of Art of the Academy of Fine Arts in Warsaw.
Header Image Credit : University of Warsaw