A study exercise for students from Lancaster University has revealed a Romano-Celtic temple near Lancaster Castle in northern Britain.
The discovery was made during a hydrogeophysics training session conducted adjacent to the Roman military fort and castle in Lancaster, revealing an extensive religious enclosure which has been identified as a Romano-Celtic temple.
Lancaster Roman Fort, also known as Wery Wall, Galacum or Calunium (a modern name given to the fort), was first constructed atop Castle Hill in Lancaster to command a crossing over the River Lune around AD 80.
During the early 2nd century AD, the fort was rebuilt in stone with a 2 metre thick revetment wall constructed in front of a clay-and-turf rampart. A Roman inscription at the fort records the re-building of a bathhouse and basilica in the middle of the 3rd century AD.
Around this time, the fort was garrisoned by the ala Sebosiana and the numerus Barcariorum Tigrisiensium. Archaeological evidence suggests that the fort remained active until the end of Roman occupation of Britain in the early 5th century.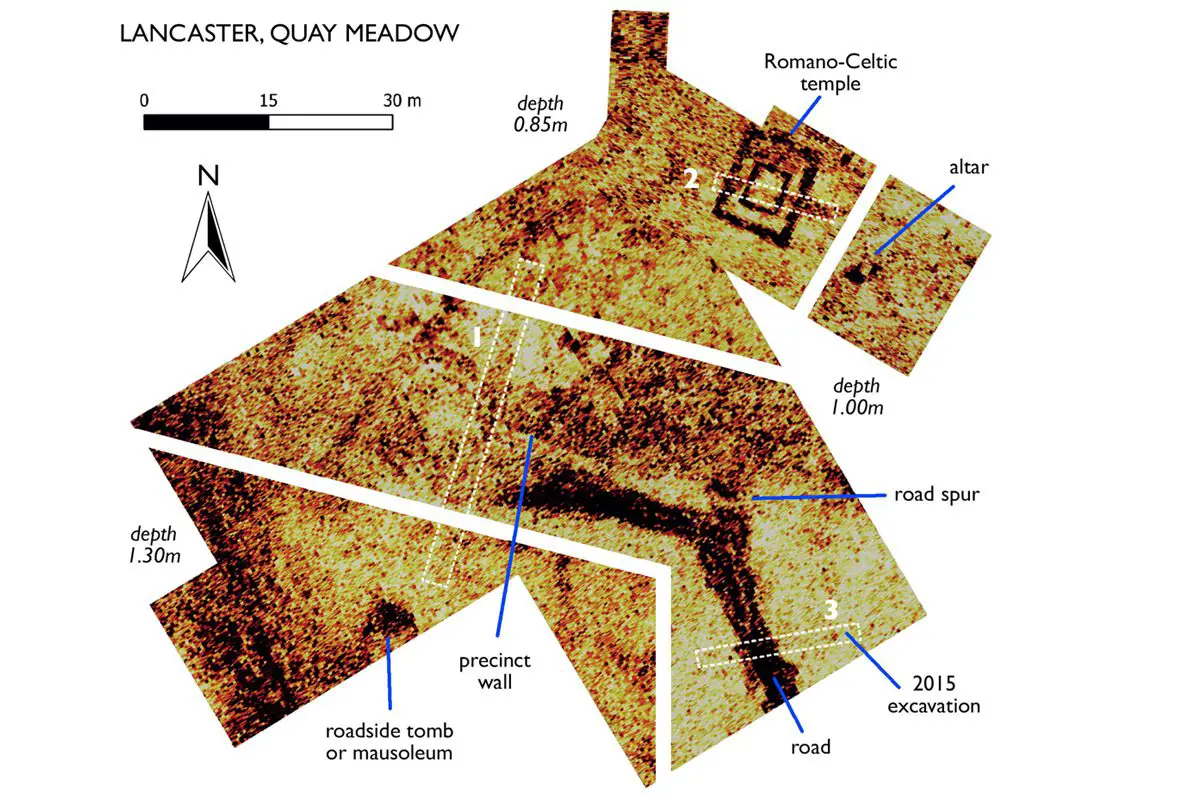 "I had a few PhD students doing geophysical research and thought this was an interesting group hobby project, training them on techniques and getting them to work as a team," said Professor Binley, who uses geophysical methods to solve hydrological problems, such as assessing underground water in agriculture and tracking groundwater contamination.
Using ground penetrating radar, resistivity mapping, and modelling to produce high resolution 3D images, the study found evidence of a Romano-Celtic temple showing a walled enclosure with a gateway leading to a processional way. The mapping data also shows a possible roadside mausoleum outside the enclosure, and what might be the base of an altar close to the temple.
"It would have been dedicated to a god, probably associated with the sea or river. The inner sanctum was reserved for the priests, the outer ambulatory space was for elite members of society," said Beyond the Castle project's leading archaeologist, Jason Wood.
"Most of the religious activities would have happened outside the temple, including sacrifices. There would have been a sanctuary or enclosure, possibly with another temple and buildings associated with hospitality and curing the sick. The enclosure would have been separate from the fort, but connected to it by a road or processional way," added Wood.
Header Image Credit: Jason Wood