Archaeologists excavating at the Roman fort of Vindolanda have discovered a rare Roman cornu mouthpiece.
Vindolanda (translated as "white field" or "white moor") was a Roman auxiliary fort, situated on the fringes of the Roman Empire near Hadrian's Wall to guard a major highway called the Stanegate.
No less than nine Roman forts were built of timber or stone at Vindolanda from around AD 85 to AD 370, creating one of the most complex archaeological sites in Britain and a unique cultural legacy of frontier life.
Today, Vindolanda is an active archaeological site (open to volunteers), with excavations previously uncovering thousands of perfectly preserved shoes, textiles, wooden objects, and the Vindolanda tablets (the oldest surviving documents in Britain that date from the 1st and 2nd century AD).
The researchers were excavating a Hadrianic workshop floor buried beneath the remains of a schola (officers' club house), when they found a rare copper alloy cornu mouthpiece dated to around AD 120-128.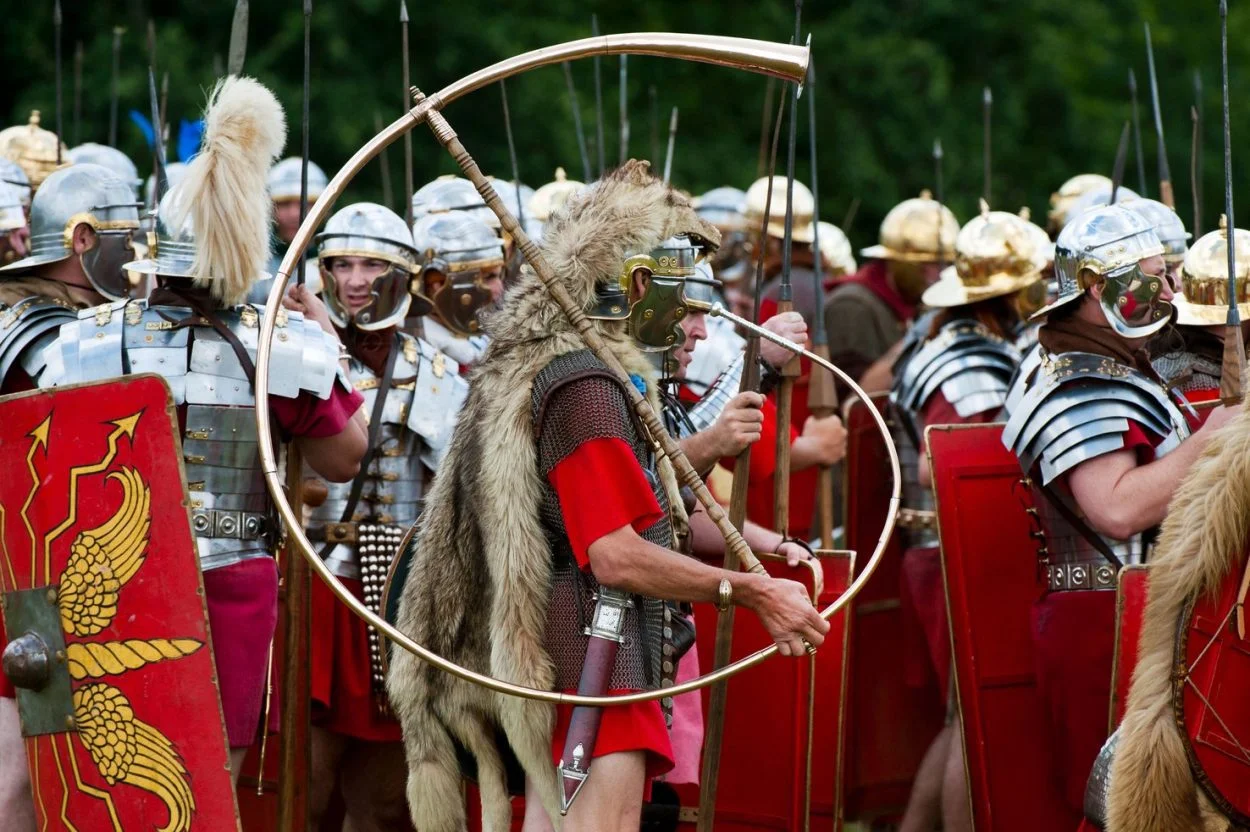 The cornu was carried by the cornicen (horn-blower) who coded the general's orders into signals and broadcasted them over the field during battles.
The object, which is a first of its kind in the Vindolanda collection, has now completed the conservation process and is undergoing further research. Cornua are depicted in many Roman settings on imagery with military, ceremonial and entertainment use such as Trajan's Column in Rome.
"This is a really exciting find here at Vindolanda", stated the Trust's Curator Barbara Birley. "We know that instruments like the cornu existed in the ancient world but when you find part of a musical instrument it helps us to build a better picture of not just what the army looked like but also how they sounded. This discovery along with exceptional artefacts like the Vindolanda writing tablets, thin handwritten wooden letters, add so much more to our historical understanding of this remarkable Roman fort".
Dr Andrew Birley, Director of Excavations at the Trust commented "Finds like this bring another dimension to our appreciation of life and the ruins left behind, a soundscape to go with the smellscape of the Hadrianic forts and remains and it is apt that we made this discovery in the year that we celebrate 1900 years since the building of Hadrian's Wall commenced".
Header Image Credit : Vindolanda Charitable Trust