Archaeologists have excavated a selection of household objects and furniture, revealing the lifestyle of the Roman middle-class in Pompeii.
Pompeii was a Roman city, located in the modern commune of Pompeii near Naples in the Campania region of Italy.
Pompeii, along with Herculaneum, and many villas in the surrounding area was buried under 4 to 6 m (13 to 20 ft) of volcanic ash and pumice during the eruption of Mount Vesuvius in AD 79.
Excavations at the lararium in the northern area of Pompeii, in the so-called Regio V, have revealed additional rooms in which archaeologists have been able to create plaster casts of the voids left by furniture and household objects in a Roman domus.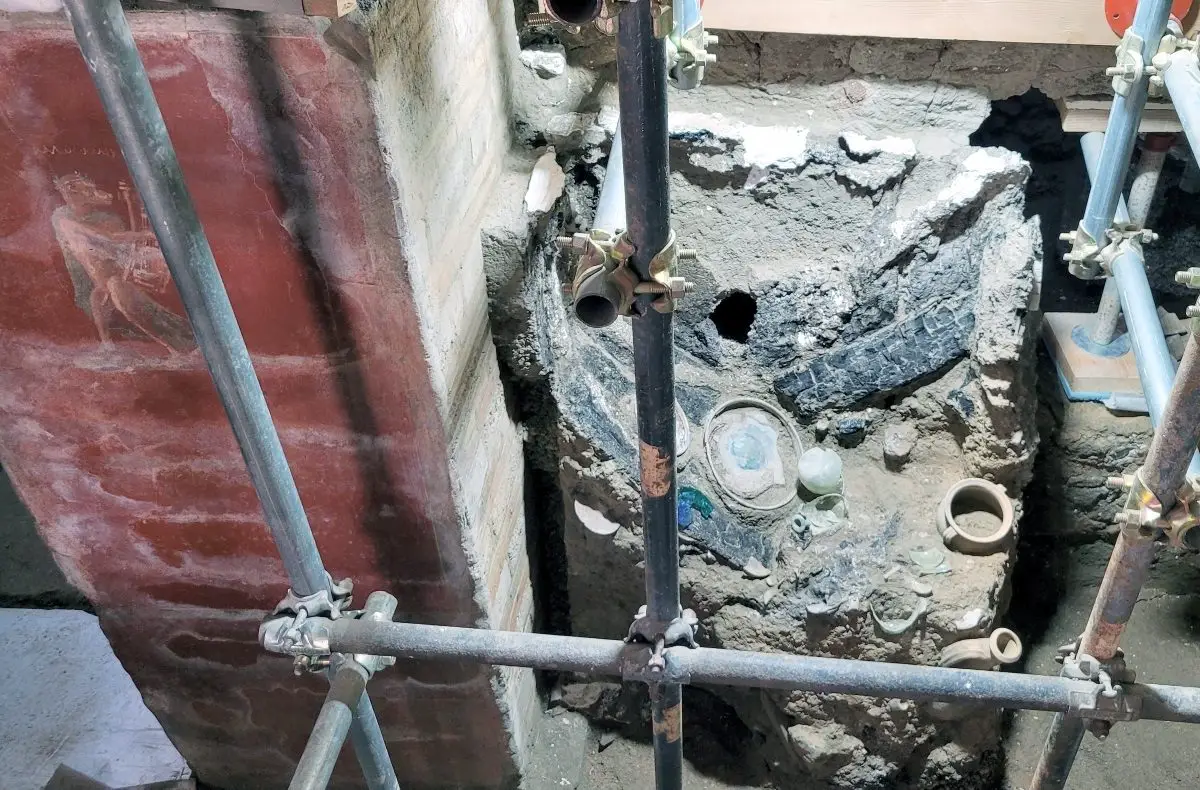 One of the rooms has been identified as a bedroom, in which the team has found a bed with parts of the frame still preserved, a trunk containing a saucer and double-spouted oil lamp depicting Zeus transforming into an eagle, and the outline of a pillow where the texture of the fabric is still visible. Next to the bed is a circular table with a ceramic cup, a glass saucer and two glass cruets, while at the foot of the table is another glass cruet and several jugs and amphorae.
Another room appears to be a storage room or warehouse used for storing amphorae, while outside in an adjacent corridor the team found a 2-metre-tall wooden wardrobe or cabinet that contains jugs, amphorae, and glass plates.
An upper floor, which has since collapsed into the lower levels has also been identified, containing wax tablets, a perfume burner in the form of a cradle, and a large cupboard used for storing ceramics and glass items.
In a press release about the items discovered, Gabriel Zuchtriegel, Director of the Archaeological Park said: "In the Roman Empire there was an ample chunk of the population that struggled with their social status and for whom daily bread was anything but a given. A vulnerable class during political crises and food shortages, but also ambitious about climbing the social ladder."
Archaeological Park of Pompeii
Header Image Credit : Archaeological Park of Pompeii