Archaeologists conducting excavations at Pompeii's Civita Giuliana have identified a room used by slaves.
Pompeii was a Roman city, located in the modern commune of Pompeii near Naples in the Campania region of Italy. Pompeii, along with Herculaneum, and many villas in the surrounding area was buried under 4 to 6 m (13 to 20 ft) of volcanic ash and pumice during the eruption of Mount Vesuvius in AD 79.
The villa of Civita Giuliana has been studied since 2017, with previous excavations unearthing several rooms, a servant's quarters, and a ceremonial chariot and stable with harnessed horses.
In the latest series of excavations by the Archaeological Park of Pompeii, alongside the Public Prosecutor's Office of Torre Annunziata, archaeologists found a room near to where the chariot was discovered, that is believed to be the humble lodgings of the slaves who carried out the everyday work in the Roman villa, including the maintenance and preparation of the chariot.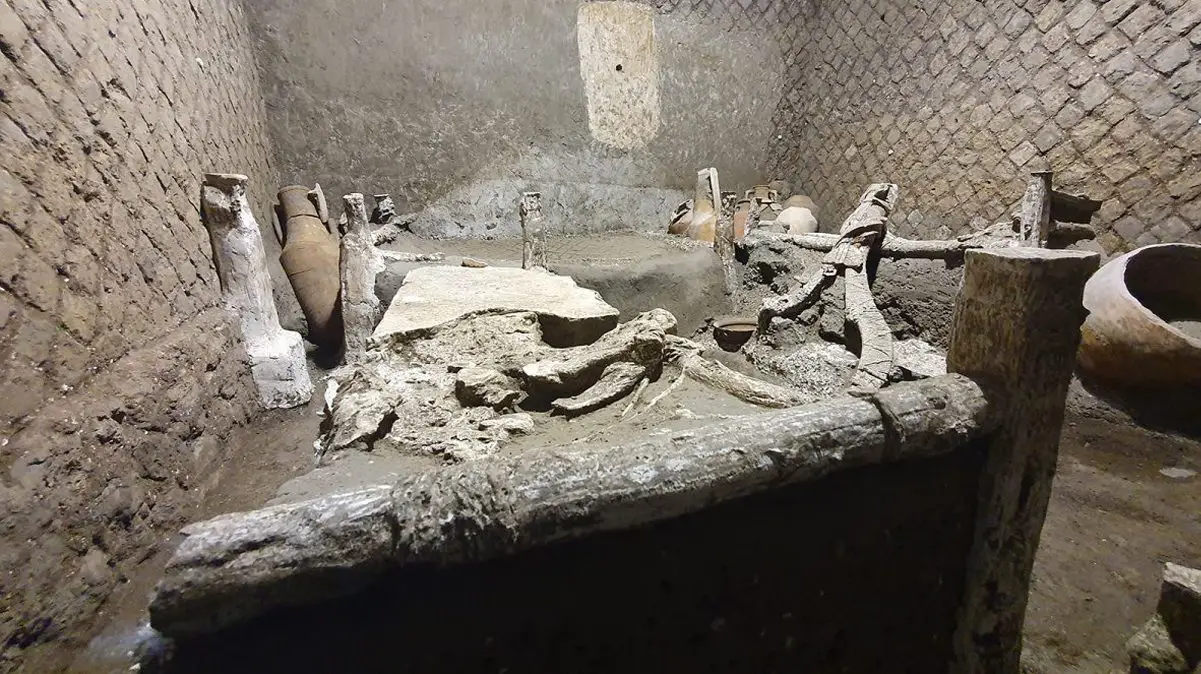 Using plaster casts of voids within the room, researchers identified beds made of roughly worked wooden planks, with rope webbed bases that are discernible entombed in cinerite from the eruption. Also preserved in cinerite is a chariot shaft, and traces of fabric blankets on the beds, as well as several personal objects such as eight amphorae, ceramic jugs, and a chamber pot.
Director General Gabriel Zuchtriegel said: "The archaeology helps us to discover a part of the ancient world which we would otherwise know little about, but which is nonetheless extremely important. What is most striking is the cramped and precarious nature of this room, which was something between a dormitory and a storage room of just 16 sqm, which we can now reconstruct thanks to the exceptional state of preservation created by the eruption of AD 79."
"It is certainly one of the most exciting discoveries during my life as an archaeologist, even without the presence of great 'treasures' – the true treasure here is the human experience, in this case of the most vulnerable members of ancient society, to which this room is a unique testimony" added Zuchtriegel.
Archaeological Park of Pompeii
Header Image Credit : Archaeological Park of Pompeii