The Meta Romuli, also called the Piramide Vaticana was a large pyramid shaped monument, constructed by the Romans between the Circus Neronis, and the Mausoleum of Hadrian in the ancient city of Rome.
Pyramidal construction for sepulchral monuments was a growing burial trend for societal elite during the reign of Caesar Augustus and the first imperial age. Construction of the monuments shared cultural influences that arguably came from Egypt, or the neighbouring kingdom of Meroë in present-day Sudan (which Rome attacked in 23 BC).
The first mention of the Meta Romuli dates from the 5th century AD in writings by Helenius Acron, who mentions that the ashes of Publius Cornelius Scipio Africanus were taken from a pyramid in the Vatican.
Due to the similarity with the Pyramid of Cestius, it was a popular belief during the Middle Ages that the Meta Romuli, and the Pyramid of Cestius (called the Meta Remi at the time) housed the tombs of the legendary founders of Rome – Romulus and Remus.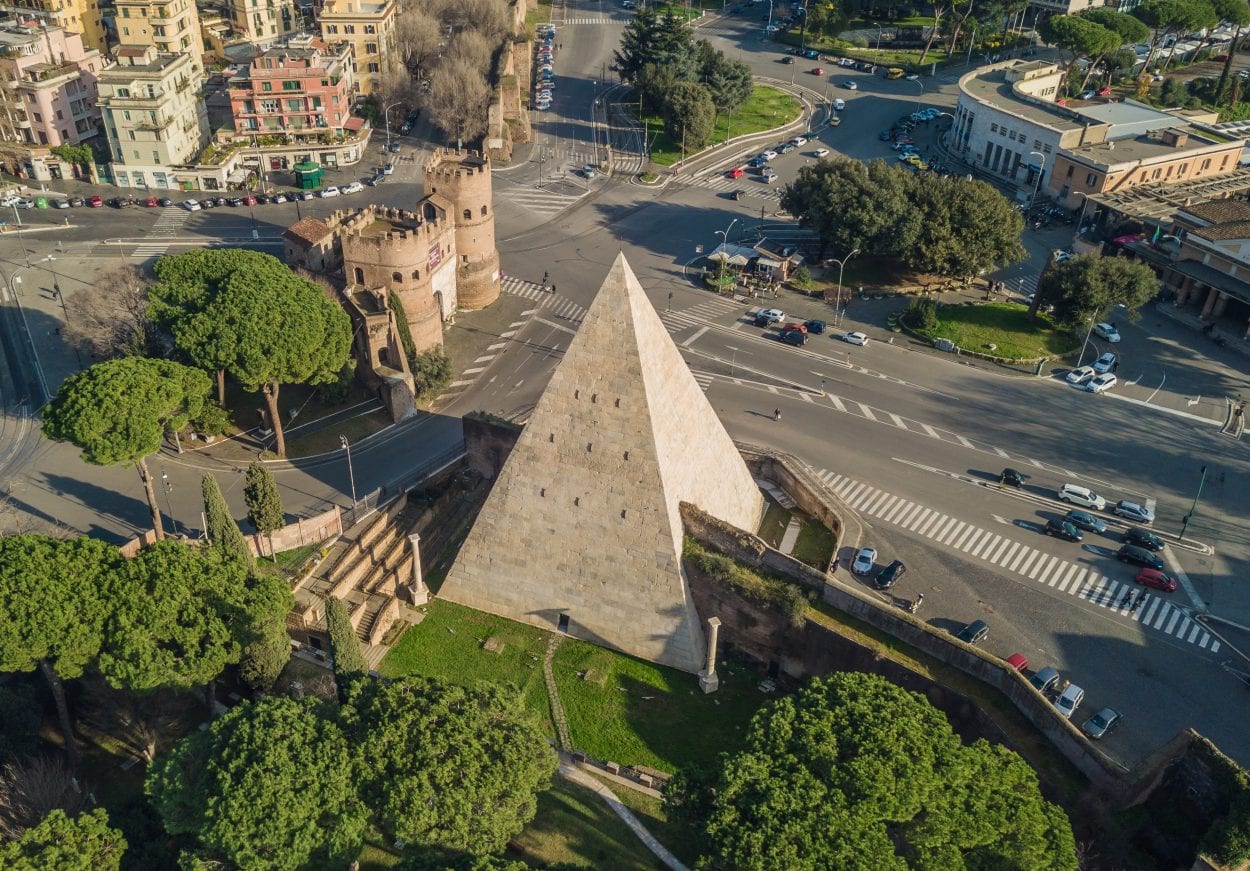 The Meta Romuli was also associated with the site of the martyrdom of Saint Peter, described as "ad Therebintum inter duas metas…in Vaticano", and subsequently was often featured in depictions of St. Peter's martyrdom and visited by pilgrims on their route to St. Peter's Basilica.
According to 15th century accounts, the Meta Romuli was constructed to a height of between 32-50 metres, and covered an area of 625 m². The interior was accessed via a long tunnel that led to a 10.5m tall inner chamber, containing four niches that held the cremated burials.
The Mirabilia Urbis Romae (a 12th century guide of Rome) describes "by the Naumachia stands the tomb of Romulus, which is called Meta, and was covered with fine stone [marble], out of which the floor and the stairway of St.Peter's were made. It had a 20-foot open space around it, made of travertine, with its own drainage gutter and flowers."
Despite the important religious significance of the Meta Romuli, in AD 1498 Pope Alexander VI ordered its demolition to make way for the planned Via Alessandrina, a road which would connect the Vatican with a bridge across the Tiber. However, in a letter written to Pope Leo X in AD 1519 by the Italian painter and architect, Raphael, he describes how he could still see the remains of the monument decades later.
In AD 1948–49, during works for the construction of the first block of the north side of Via della Conciliazione, the foundations of the Meta Romuli were rediscovered in today's Borgo district of Rome.
Header Image : The Meta Romuli depicted by Cimabué – Public Domain