Predjama is a Renaissance castle located in the village of Predjama in the Republic of Slovenia.
Records first give mention of the castle's construction by the Patriarch of Aquileia during the early 13th century. The castle was built within a cave mouth, that leads to a network of subterranean passages and caverns stretching for 14 kilometres that were inhabited during the late stone age and used as stables by the Romans.
During the 15th century, the castle became the seat of Erasmus of Lueg, the son of the imperial governor of Trieste and a Knight who gained a reputation as the "robber baron".
Erasmus had fallen out of favour with the Holy Roman Emperor, Frederick III for killing a commander of the Imperial Army (who had offended the honour of Erasmus's deceased friend), and Erasmus began to raid Habsburg estates and towns in the historical region of Carniola.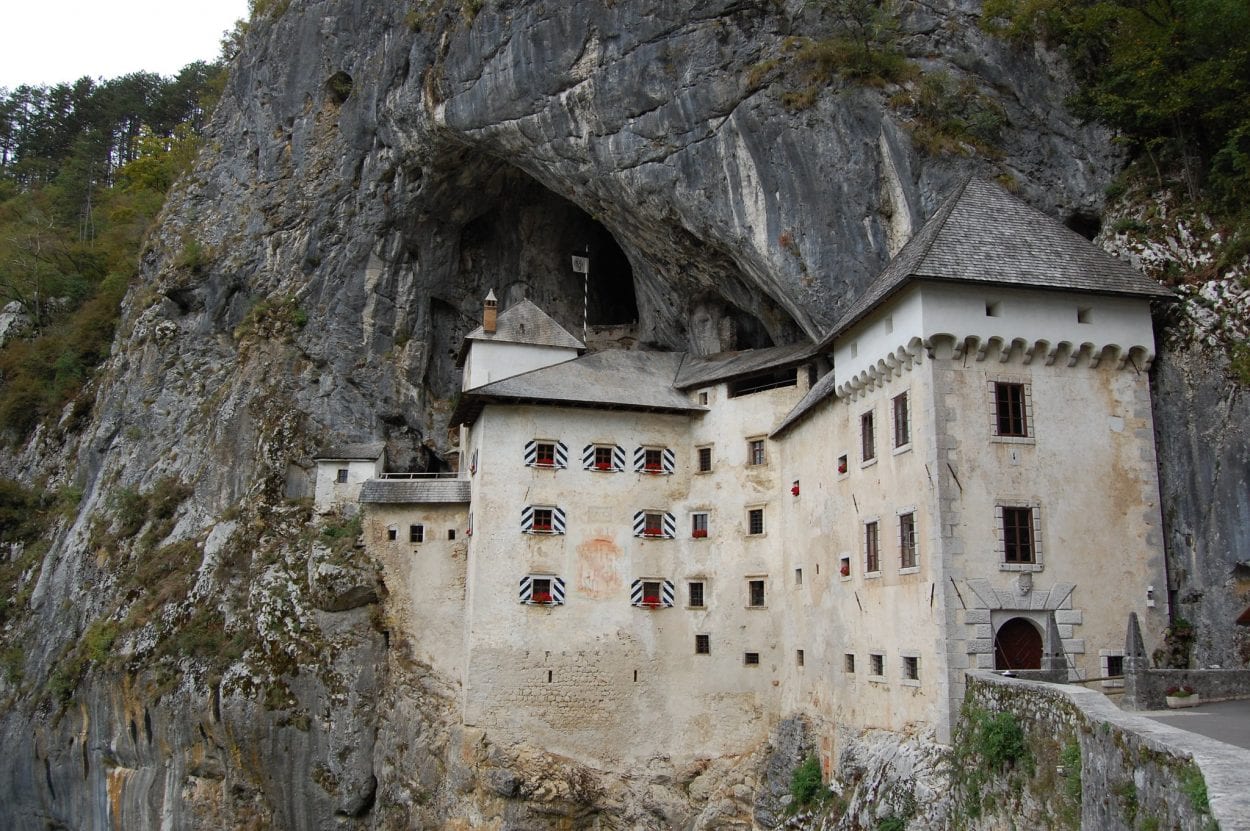 In response, the governor of Trieste was dispatched to place Predjama Castle under siege by starvation, but Erasmus used the network of caves to smuggle in supplies through a natural vertical shaft that leads to an exit above the cave's mouth.
According to legend, the siege was ended when Erasmus was betrayed by one of his men who fired a cannon at his garderobe, killing Erasmus who was supposedly using the lavatory, and the castle was subsequently destroyed.
The current Renaissance castle was constructed in the late 16th century by the Kobencl family, after being invested with the Jama manor by the Archduke Karel of Austria. The Kobencl's built the fortress on the remains of the medieval castle, within the mouth of the cave and pressed against a 123-metre-high vertical cliff face.
The castle consists of a courtroom, armoury, dungeon, and a Palatium (living quarters) with several bedrooms, the Knight's room, a dining room, and kitchen.
In the 18th century, the castle was bequeathed to Count Mihael Coronini from Kromberk and then sold to Prince Weriand Windischgrätz, where it remained in the Windischgrätz family until the end of World War II.
After the deposition of King Peter II and the founding of the Socialist Federal Republic of Yugoslavia, the castle was nationalised and confiscated by communists from the Yugoslav authorities and turned into a museum.
Header Image Credit : KLMirceaFollow – CC BY-SA 2.0