The surfaces of Earth, Mars, and Titan, Saturn's largest moon, have all been scoured by rivers. Yet despite this similarity and the amazingly Earth-like landscapes of Titan complete with valleys, lakes, and mountains, researchers led by City College of New York geologist Benjamin Black report new evidence that the origins of the topography there and on Mars are different from on Earth.
In their paper "Global drainage patterns and the origins of topographic relief on Earth, Mars, and Titan," published in the latest issue of Science, the team identifies plate tectonics on Earth as one key difference.
Plate tectonics is the theory that Earth's crust is made up of large, moving pieces called plates. The relative motions, regeneration, and recycling of these plates continuously reshape the surface of the Earth, in the process uplifting topography in some areas much more than others. As mountain ranges jut up, they can divert rivers as they flow toward the sea.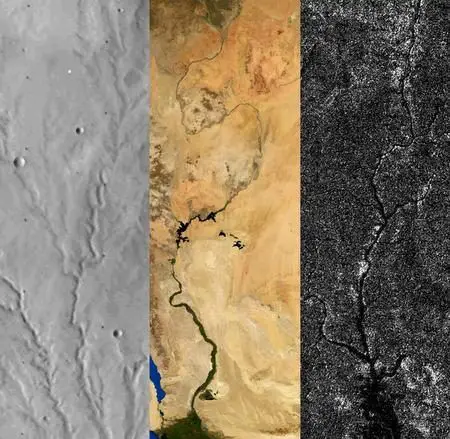 While the origins of the topography on Titan remain somewhat mysterious, Black's research team discovered that the rivers there, likely carved by liquid methane, have not been as thoroughly rerouted as rivers on Earth.
"It's important to realize that almost every aspect of Earth's surface has been shaped by plate tectonics," Black says. "So there is nowhere we can look to see what landscapes would look like without plate tectonics. That's where Mars and Titan come in. We can use these three worlds as natural experiments. They are like siblings that have followed different life paths."
"Before the discovery of plate tectonics, there were all kinds of theories for the origins of Earth's topography," Black adds. "What really fires my imagination is thinking about the sheer possibilities even in our solar system. One of the big takeaways from our research is that each world seems to strike its own balance in terms of the processes that are shaping the surface we see."