A small stone container found by archaeologists a half-century ago has now been recognized as further evidence of a Viking or Medieval Norse presence in Arctic Canada during the centuries around 1000 A.D.
Researchers reporting in the journal Geoarchaeology discovered that the interior of the container, which was found at an archaeological site on southern Baffin Island, contains fragments of bronze as well as small spherules of glass that form when rock is heated to high temperatures.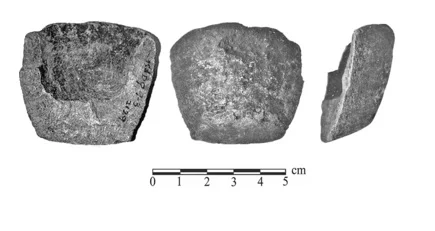 The object is a crucible for melting bronze, likely in order to cast it into small tools or ornaments. Indigenous peoples of northern North America did not practice high-temperature metalworking.
The Norse would likely have travelled to the area to obtain furs and walrus ivory.
"The crucible adds an intriguing new element to this emerging chapter in the early history of northern Canada," said lead author Dr. Patricia Sutherland, who has recovered other specimens in Arctic Canada that resemble those used by Europeans of the Viking and Medieval periods.
"It may be the earliest evidence of high-temperature nonferrous metalworking in North America to the north of what is now Mexico."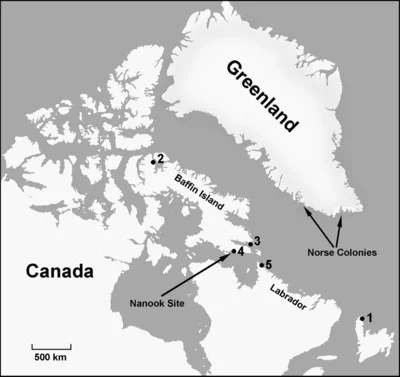 Background
The Viking-age Norse established settlements on the southwestern coast of Greenland about A.D. 1000, and these continued to be occupied until the early 15th century. Although less than 400 km separated the Norse Greenlandic colonies from the coasts of Arctic Canada, and explorations to the west of Greenland are described in Icelandic sagas, surprisingly little is known of ventures to North America.
The archaeological site at L'Anse aux Meadows in northern Newfoundland confirms saga accounts that the Norse established a short-lived station in Atlantic Canada at some time around A.D. 1000 (Ingstad, 1985; Linderoth Wallace, 2003, 2006). In Arctic Canada and northwestern Greenland a number of Norse artifacts have been found in the remains of early Inuit settlements dating to the 13th or 14th centuries, suggesting occasional contact with the Greenlandic Norse or the salvage of a Norse shipwreck by Inuit who had recently arrived in the area from their Alaskan homeland (Schledermann, 1980; McCullough, 1989).
Until recently the Norse presence in the eastern North American Arctic and Subarctic was assumed to have been limited to brief and infrequent explorations (Jones, 1986; Linderoth Wallace, 2003).
Download the HeritageDaily mobile application on iOS and Android
---
Planet Knowledge is a FREE to watch video on demand channel available on Freeview HD (Channel 265), Youview, Samsung connected TV's, selected smart tv's, tablets and smartphones using Android or iOS. Find out more