Mabey Bridge apprentices successfully stabilise historic vessel ready for next stage of restoration
Stabilisation work on the historic Severn Princess car ferry has been successfully completed by Chepstow's Mabey Bridge. The end of this first stage of restoration has been marked with a handover ceremony attended by the Mayor of Chepstow Cllr Ned Heywood, members of the Severn Princess Restoration Group, and management and apprentices from Mabey Bridge.
At the event, Philip Clegg, Production Director of Mabey Bridge handed over a commemorative certificate to Councillor Heywood.
"Mabey Bridge is delighted to have successfully completed this vital first stage of the restoration project," said Mr Clegg. "We are proud to have been able to lend our expertise as well as the skills of our apprentices, and through our Bridging Time campaign we have donated both materials and time to this project. The Severn Princess is an important cultural and industrial artefact for the town of Chepstow and the company remains committed to its restoration."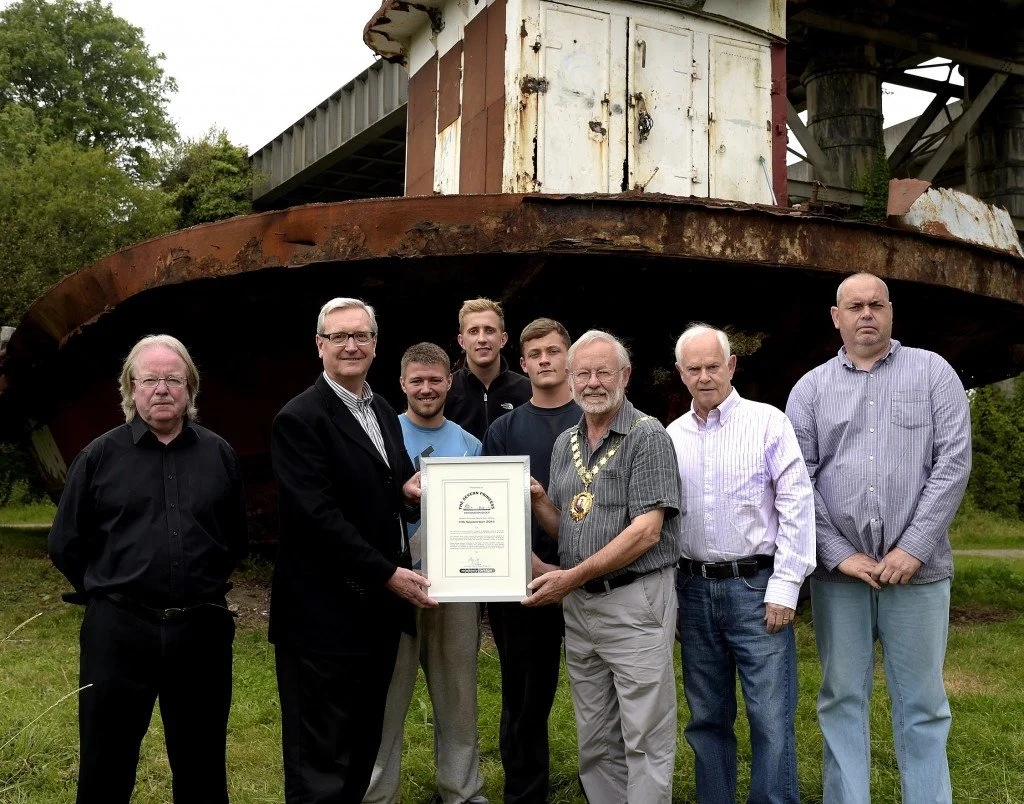 Over a three month period that started in June 2014, staff and apprentices from Mabey Bridge have worked hard to remove critically eroded elements of the hull, as well as various structural items from the deck and wheelhouse. A considerable amount of water was drained from the hull, which is now being given a final layer of protective paint – also donated by Mabey Bridge – to complete this initial stabilisation phase.
Explaining the completed work, Steve Armstrong, Special Projects Engineer at Mabey Bridge said, "It was vital that we arrested the degradation of the Severn Princess. She's not in a great condition, but she's held together well considering what she's been through. Stabilising the vessel allows the Restoration Group to better assess her condition and plan the next stage. The restoration project will take some time and a considerable investment to complete and this work has been critical in preparing the vessel for the next phase."
Councillor Ned Heywood, Mayor of Chepstow added, "It was wonderful to see the work start in June, and we are immensely grateful to Mabey Bridge, not only for the invaluable experience the company has brought to this project, but for the manpower the company has generously donated. There is a long way to go, but this is a wonderful first step and we are looking forward to continuing with this project."
Learn more about the Severn Princess project at www.severnprincess.org.uk
Visit the Bridging Time website at www.bridgingtime.co.uk