Hundreds of sites and structures established for the defence of Scotland in the First World War are explored in an extensive audit of the conflict's built heritage, published today (9th February).
It reveals previously unknown details of many aspects of our wartime heritage, including top secret anti-invasion defences prepared around Edinburgh in case of enemy attack.
The audit, commissioned by Historic Scotland and the Royal Commission on the Ancient and Historical Monuments of Scotland (RCAHMS), has unearthed an enormous amount of new information which has allowed the records of 900 buildings and places to be created or updated, more than triple the number expected at the outset.
As Scotland prepares to commemorate the centenary of WW1, the audit of wartime assets has provided a fuller picture of the built heritage that can teach us about the country's part in the war at a local and national level.
Among the records that have been added to or improved in the audit are:
239 hospitals – ranging from village halls to vast hospitals that are still in use today
64 air stations, 30 of which had not been included in Scotland's record of sites before the audit. This is a mix of seaplane bases, fixed wing bases and airship stations
39 prisoner of war camps over the period of the conflict with Scotland's main site being at Stobs near Hawick. The others ranged from Edinburgh Castle to the more modest Miners' Cottages on Raasay
anti-invasion defences in 39 places, with the majority of them located around Edinburgh and East Lothian
20 firing ranges with just over half known to have remains of the original site
15 barrack and military accommodation sites, the most notable being Edinburgh's Redford Barracks, still operational today
11 naval dockyards and naval bases, including sites used by the US Navy in Invergordon and Inverness
One key finding on previously unknown War Office maps is the extent of the land-based anti-invasion defences that were put in place around Edinburgh and across the Lothians and Fife in order to stop an enemy attack. A detailed study of high definition aerial photography has revealed surviving elements of the network of trenches and earthworks dating back to WW1.
The most extensive defences were located to the east of Edinburgh at Portobello and stretched from the shore of the River Forth to the south of the city. This defensive system, of barbed wire, firing trenches and strongpoints, was critical to ensuring the city was defended from a land attack.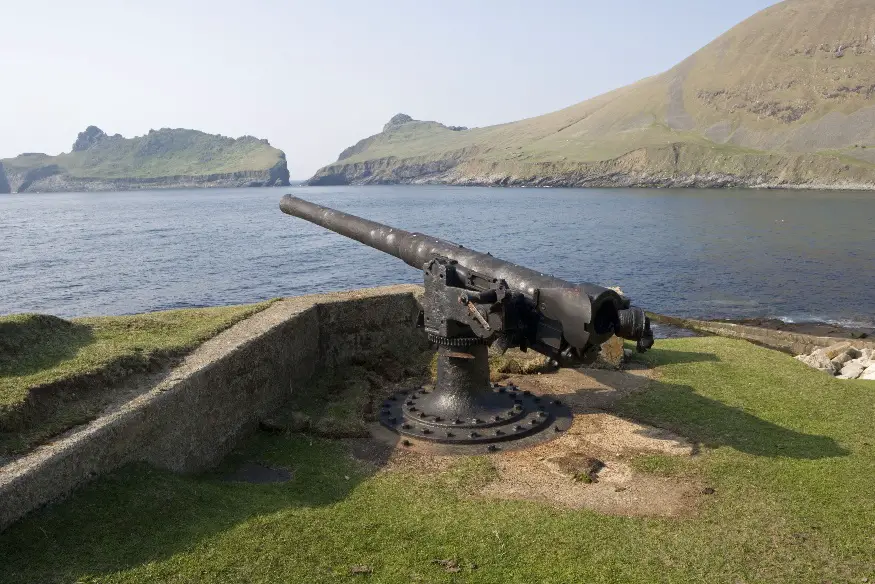 The audit has shown that of 350 drill halls that were in use in Scotland during WW1, 189 survive today. These places were the training bases for volunteer soldiers. While the role of these buildings was similar, the varying architectural styles of the buildings is fascinating – from quite grand structures to much simpler and functional designs.
Some of these wartime heritage assets will be designated by Historic Scotland during the centenary period, to recognise and protect their significance for future generations.
Fiona Hyslop, Cabinet Secretary for Culture and External Affairs, welcomed the audit's findings. She said: "Our World War One built heritage is a vital part of our historic environment and is key to educating us about Scotland's role in the conflict. This audit will prove invaluable to our understanding of how every community played its part during the First World War.
"As we prepare to commemorate 100 years since the start of the war, I hope people will use this research to learn more about this important period and contribute any information they have so we continue to piece together a fuller picture of Scotland's role. I also welcome the fact that Historic Scotland will recognise the significance of some of these assets through designation, helping to ensure they are safeguarded for future generations."
The audit's author, Dr Gordon Barclay added: "The audit has more than tripled the number of places known to be associated with Scotland's contribution to the First World War, both military and civilian, and has revealed an extraordinary variety of structures, reflecting Scotland's importance to the war effort. The audit is only the first step, and other places no doubt remain to be identified, and the wartime role of many other places will certainly come to light during the centenary of the war."
Allan Kilpatrick of RCAHMS said: "Scotland was on the front line during WWI. St Kilda was bombarded by a German U-boat and Edinburgh was bombed by a Zeppelin. The naval bases on the Forth, Cromarty and Scapa Flow were essential to protect Britain's navy and her shipping. Large parts of the landscape were transformed by structures designed to repel any invasion or attack, and it is remarkable just how many WWI remains can be still be seen today. Having these records online and in one place, provides a perfect starting point for further study."
All of the records – which feature hundreds of modern and historical photographs of sites – are available to view online on the RCAHMS' Canmore database: www.rcahms.gov.uk/firstworldwar
The Built Heritage of the First World War in Scotland audit is now available for everyone to use and can be viewed here.
Header Image : Inchinnan – Inchinnan airship shed in 1916. It was constructed by Sir William Arrol © RCAHMS (Sir William Arrol Collection).
Contributing Source : Historic Scotland