Rani ki vav is an ancient stepwell temple located on the banks of the Saraswati River, in the Gujarat state of India.
A stepwell is generally defined as a cistern or irrigation tank, reached by descending a set of steps to the water level. Stepwells became common throughout India, with several being associated with ritual cleansing or rites of consecration in veneration of deities within "stepwell temples" or "temple tanks".
Rani ki vav is one such stepwell temple, designed in the Maru-Gurjara architectural style (a style of north Indian temple architecture from the 11th to 13th centuries AD) in the form of an inverted Nanda-type stepwell temple to represent the sanctity of water.
The temple was constructed during the 11th century AD and is attributed to the Chaulukya dynasty (also known as the Chalukyas of Gujarat or the Solanki dynasty) which ruled parts of what is now Gujarat and Rajasthan in north-western India.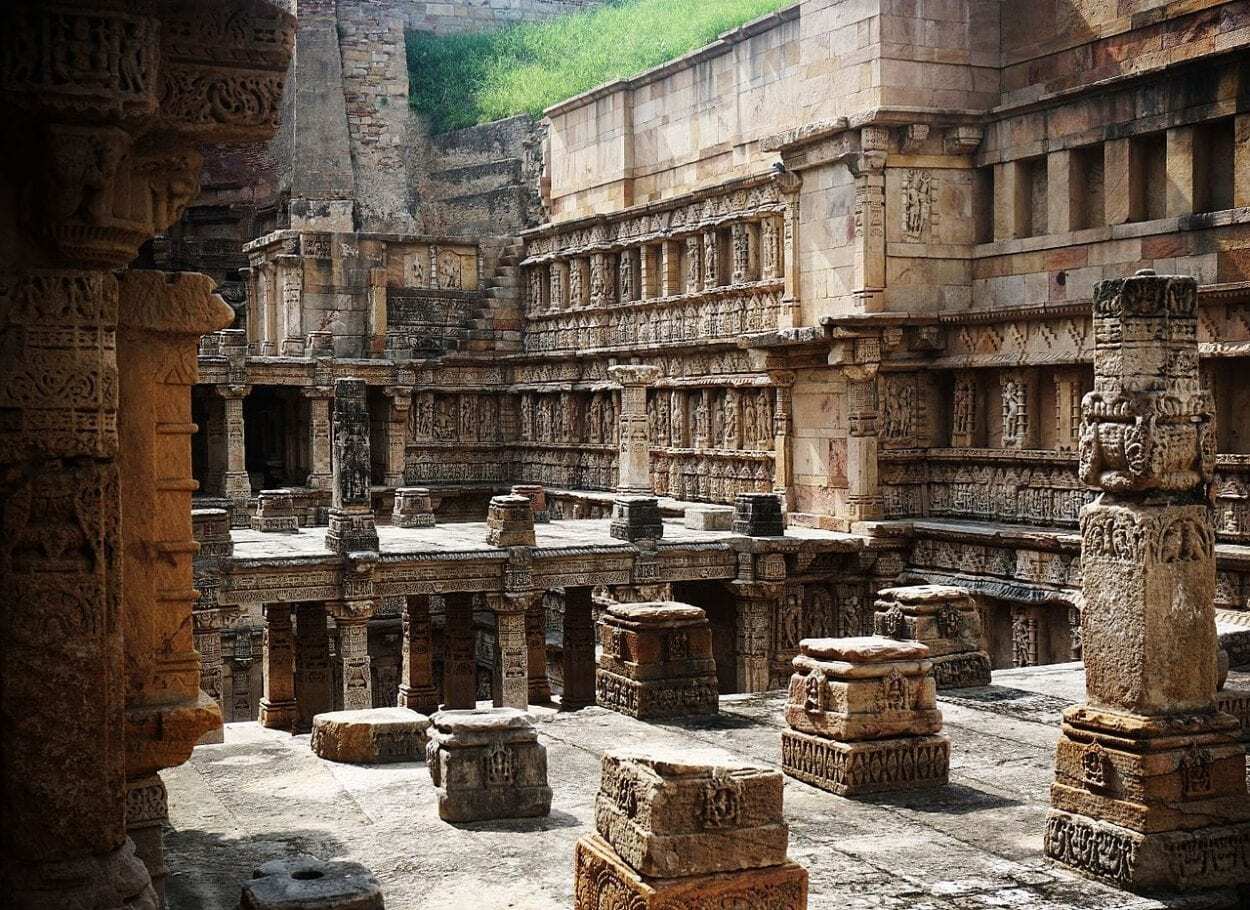 The first mention of the temple dates from AD 1304, when the Jain monk Merutunga composed the Prabandha-Chintamani (medieval Indian Sanskrit literature) which mentions "Udayamati, the daughter of Naravaraha Khengara, built this novel stepwell at Shripattana (Patan) surpassing the glory of the Sahastralinga Tank".
Rani ki vav consists of 212 ornately carved pillars over seven levels of stairs which leads down to a circular well. The walls are adorned with various figures and sculptures, numbering 500 principle sculptures and over a thousand minor depictions of numerous deities that includes Brahma, Vishnu, Shiva, goddesses (Devi), Ganesha, Kubera, Lakulisha, Bhairava, Surya, Indra, and Hayagriva.
Over the centuries the stepwell was flooded by the Saraswati River, depositing layers of silt with each flood event that eventually led to the temple being buried.
Excavations during the 1940's first began to reveal the monumental size of Rani ki vav, with the first major excavation and restoration project being conducted by the Archaeological Survey of India (ASI) from 1986.
In 2014, Rani ki vav was recognised into the UNESCO's World Heritage Sites list as an ancient monument of national importance by the provisions of the Ancient Monuments and Archaeological Sites Act of 1958.
Header Image Credit : Bernard Gagnon – CC BY-SA 3.0