Silbury Hill is an ancient prehistoric man-made conical mound rising above the dramatic landscape of the nearby Avebury Stone Circle in Wiltshire, England.
Silbury Hill was constructed of chalk and clay, covering an area of 5 acres and was excavated from the nearby area. The mound stands at a height of 31 metres, making the monument the tallest prehistoric artificial mound in Europe.
Silbury Hill was built in several stages by successive generations of the late Neolithic to early Bronze Age Britons from 2470 and 2350 BC, predating the construction of the Great Pyramid of Giza (completed around 2560 BC).
In the Third Millennium BC, the Britons ceased their continual expansion and cultivation of wilderness and instead focused on settling and farming the most agriculturally productive areas. This allowed them to focus on intense building projects in the Avebury area, which includes the Avebury Stone Circle (the largest megalithic stone circle in the world), the West Kennet Long Barrow, Windmill Hill and Silbury Hill.
The earliest construction consisted of a 1-metre tall mound, consisting of a gravel core with a revetting kerb of stakes and sarsen boulders. The builders later placed chalk rubble on the original core using material excavated from a series of ditches that surrounded the monument, becoming a well-defined bank and ditch enclosure. Further mounds were then constructed on the core raising the height of the monument which were eventually covered in complex layers of chalk and clay.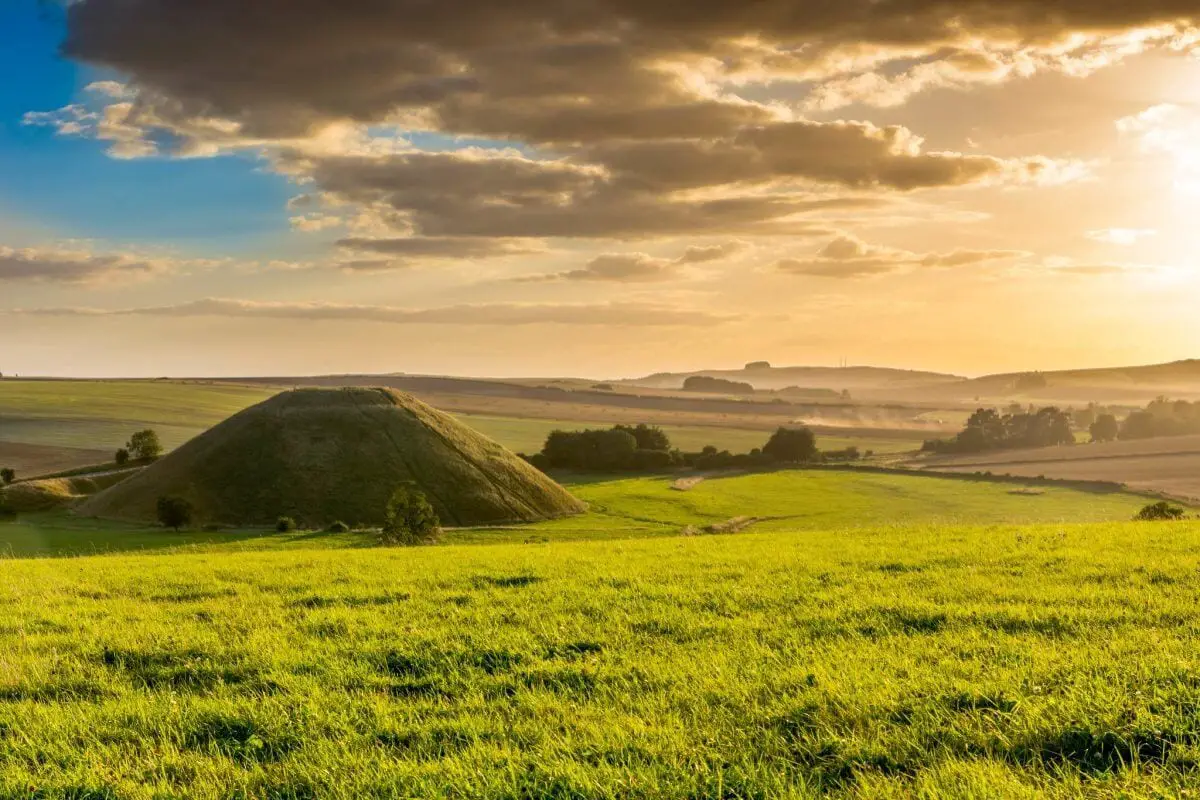 Survey work undertaken by English Heritage in 2007 suggested that the mound was not terraced (as proposed by previous excavation works), instead the form of the monument was spiraled down from the top and that each level was a polyhedron with a number of straight sides.
The function of Silbury Hill has eluded archaeologists for centuries, with theories ranging from a ceremonial platform for an elite priesthood to display their authority, seasonal rituals, a system of inter-related sightlines to other prehistoric monuments to the burial site of King Sil told in local folklore.
The only prehistoric artefacts discovered, have been found within the core of the mound that includes moss, shells, mistletoe, oak, hazel, ox bones and antler tines giving an insight into the local prehistoric fauna and flora.
The first excavation took place in 1776 when Hugh Percy, the 2nd Duke of Northumberland was patron to Colonel Edward Drax and commissioned a team of Cornish miners to sink a vertical shaft into the monument from the summit. Subsequent excavations through to the current century have tried to solve the enigma of Silbury Hill, but to no avail.
The hill is believed to have had a range of later uses including significance to a nearby Roman settlement, the location of a Christian building as well as being home to a late Saxon or Norman military structure as indicated by later episodes of disturbance and a Saxon revetment.
Header Image Credit : Swindonian