Excavations being carried out at Tithebarn Green, Redhayes near Exeter are revealing a complex ancient landscape with occupation dating from the Neolithic through to the Medieval period.
The Bronze Age Pin Brook enclosure, located at the northern end of the Tithebarn Green site has been particularly interesting. The enclosure may have been built to adapt a Neolithic causewayed enclosure and there is evidence of ongoing use of the site in the late Roman and/or post Roman British or Anglo-Saxon periods. There is also evidence of the post-medieval enclosure of the landscape for more intensive farming.
The excavation work conducted by Cotswold Archaeology has been commissioned by Eagle One Homes in advance of the development of Tithebarn Green for a new village on the edge of Exeter.
A team of up to 10 archaeologists has been working on the site for the last ten weeks. They have removed almost 21,000 cubic metres of soil using two 20-tonne excavators to reveal the enclosure ditches and features. This is only a part of the whole enclosure. Richard Greatorex,
Principal Fieldwork Manager at Cotswold Archaeology says: "We have identified a Bronze Age enclosure with a two metre deep ditch. These enclosures are a bit of a mystery in that they don't appear to be defensive as there are no stores or homes within them but they look far too large to be simply for retaining livestock.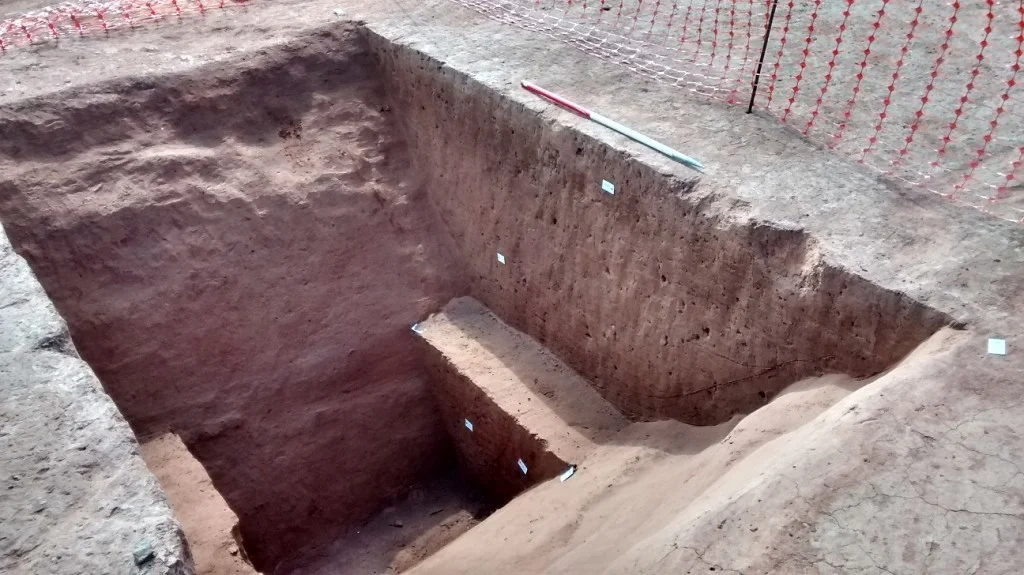 ---
Subscribe to more articles like this by following our Google Discovery feed - Click the follow button on your desktop or the star button on mobile. Subscribe
"We have found remains of up to 70 burials within the enclosure which we believe to be from the late Roman or post Roman British/Anglo Saxon period. We have also found a number of furnaces or corn dryers used to dry a variety of cereals and several additional Bronze Age ditches as well as later post- medieval ones. The site had clearly been in use for a long time."
Chris Fayers, Director, Eagle One Homes, commented: "We are undertaking significant investigations at Tithebarn Green, Redhayes and Mosshayne in advance of developing a new village for housing. These will record the sites' archaeology, preserve finds and contribute to our understanding of the local heritage. At all stages we have worked closely with Devon County Council to ensure that the investigations meet the high standards set by Historic England."
Initial work involved a geophysical survey (Ground Radar) of the whole 20 hectare site to identify potential areas for investigation. Then a number of trial trenches were dug in areas of interest to see what was lying under the surface. The Pin Brook enclosure was identified as needing more extensive work to understand and record the site.
Bill Horner, County Archaeologist, Devon County Council said: "From our aerial photography we knew that there was a significant prehistoric site at Redhayes and we were particularly keen to ensure that it was fully investigated and recorded for the local archives before any development took place. The new evidence for use of the site in the late or post-Roman period is of great interest."
There is a significant amount more work to do in sifting through the 900 10-litre tub samples taken from the burials and a further 300 10-litre tub samples from the furnaces. This will allow the identification of small pieces of bone, tooth enamel and cereal grains all of which may enable more accurate dating of the features. A public display of all the findings from the site is planned for Spring 2016 and a final report will be prepared for publication and for the Devon Historic Environment records.