For more than 2000 years a suburb of monumental Roman buildings lay undiscovered beneath a modern South Wales town, but now archaeologists from the University hope to reveal the secrets of this fascinating ancient site.
In spring 2010, staff and students from the School of History, Archaeology and Religion located a complex of buildings outside the Roman fortress at Caerleon. The 'Lost City of the Legion' – as it has been called – was completely unknown and is a major addition to our knowledge of Roman Britain.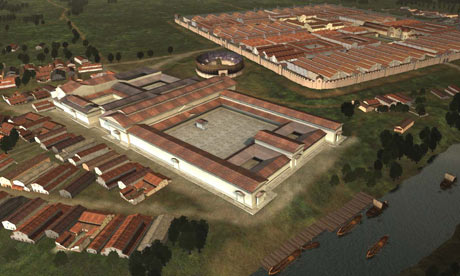 Geophysical surveys taken by the Cardiff team at the time of the discovery showed buildings that could have included markets, bath houses and temples. Small test trenches also revealed what is thought to have been a quayside wall where ships would have docked and unloaded their cargoes for the military garrison at Caerleon and other forts in Wales.
Now, a four-week excavation (4 August – 1 September) undertaken by archaeologists from Cardiff is aiming to shed light on the remains of these important buildings.
Dr Peter Guest, School of History, Archaeology and Religion said: "The great thing about an archaeological discovery like this is there are lots of new questions that we just don't have definite answers to at the moment. The presence of this suburban complex implies that the fortress was intended to become a major administrative center in western Roman Britain, but for some reason this never happened. When was it built? What were the buildings for? Who were the people using them and what happened to them after the legion left Caerleon? That's what we're hoping our excavation of this important site will tell us."
The dig is open to the public and people can find out how the archaeologists are getting on during special site tours at 11.00am and 2.30pm daily (except Wednesday). During the August bank holiday weekend (27th-29th, 10 am to 4.30 pm) there will be tours, displays of the latest finds and lots of activities for families to join in – including dressing up as Romans, making pots and sampling Roman cooking.
There are also opportunities for people to volunteer on the excavation and learn more about how archaeologists find out about the past. Anyone can take part although children under 16 years of age must be accompanied by a parent or guardian. Volunteers can join the excavation for a weekend, a day or a few hours. To apply to volunteer at Caerleon 2011 please email Dr Paula Jones, Community Archaeologist, on: [email protected]
The team's progress can be followed online via the dig blog, Twitter, or Facebook.
Subscribe to the HeritageDaily newsletter